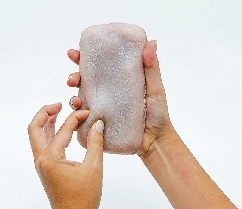 Scientists have developed an "artificial* skin" that they say can wrap around devices such as smartphones and make them ticklish*.
The prototype*, which has been designed to look like and mimic human skin, responds to different forms of human contact such as tickling, caressing and pinching.
Called "Skin-On," it can be attached to mobile phones, wearable devices and laptop touchpads. One of the things the researchers said they were able to demonstrate was "tactile* emotions" with use of emojis.
"A strong grip conveys anger while tickling the skin displays a laughing emoji and tapping creates a surprised emoji," said the study's lead author, Marc Teyssier, a PhD student at Telecomm ParisTech.
The technology was developed by researchers at the University of Bristol in partnership with Telecomm ParisTech and Sorbonne University in Paris.
The team says their work opens the door for a possible future with "anthropomorphic* devices," where gadgets have human characteristics.
The case was created using two layers of silicone* with an electrode* layer in the middle made up of ultra-thin wires that act as sensors. The two types of silicone were dipped in pigment and moulded to give the creation a skin-like texture.(SD-Agencies)