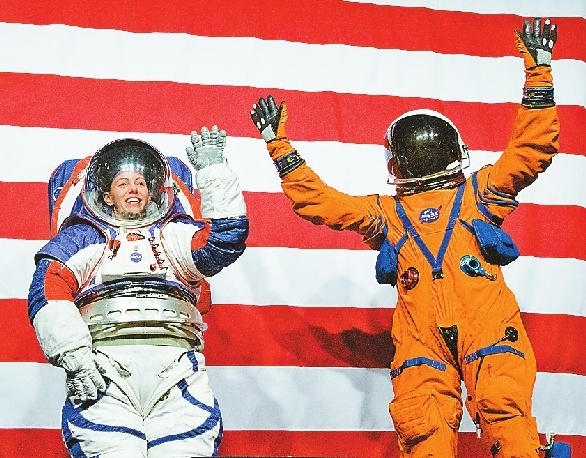 NASA* has revealed new spacesuits, specifically created for the Artemis generation of missions, which aim to get the first American woman and the next American man to the surface of the Moon by 2024.
Guided by NASA Administrator Jim Bridenstine, the agency first demonstrated the suit that astronauts will use on the surface of the Moon (and, with modifications*, eventually on Mars). It's called the "xEMU" variant, and it allows astronauts to actually moonwalk.
The original suit actually only offered enough range of motion for Neil Armstrong and Buzz Aldrin to be able to essentially "bunny hop" on the lunar surface. This new design allows them to move around much more dynamically, including actually walking, and offers plenty of range of motion for their arms. Combined with new gloves that actually allow astronauts to freely move their fingers, they can do things like pick up rocks off the lunar surface with relative ease.
The new spacesuit is also designed to work with virtually everyone who could want to become an astronaut, with inclusive sizing that can accommodate anyone, according to Kristine Davis, a spacesuit engineer at NASA.
Because NASA is also looking to ensure that this time when they return to the Moon, they do so sustainably* (meaning with the intent of eventually setting up shop* and staying), they also designed this suit with a much higher range of temperature variances to ensure it can serve at both the north and south poles of the Moon, as well as around the equatorial* region.
The other suit, called the "Orion Crew Survival Suit," is a much lighter suit that's designed to be worn during take-off and landing. It'll generally be depressurized* when in use, but can provide protection in case of accidental depressurization. (SD-Agencies)