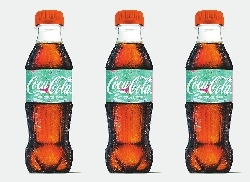 Coca-Cola has successfully produced bottles that are made from plastic waste from the ocean.
According to the soda company, they created 300 bottles from 25 percent of recycled plastic collected from beaches in Spain, Portugal and the Mediterranean. To do this, Coca-Cola partnered with Ioniqa Technologies, a clean-tech spinoff from the Eindhoven University of Technology in the Netherlands, Indorama Ventures and Mares Circulares (Circular Seas).
The team put the ocean plastics under a process called "enhanced recycling." This process enables lower-grade plastic to be stripped of impurities* and brought back to "virgin grade" so it can once again be used for food and drink packaging.
Coca-Cola plans to begin introducing the bottles in its packaging starting from 2020. Tim Brett, the president of the brand's Western Europe companies, said the brand's aim is to see the term "single-use plastic" become redundant.(SD-Agencies)