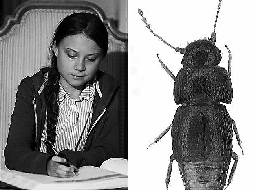 BRITAIN'S Natural History Museum on Friday named a tiny, blind and wingless beetle after climate activist Greta Thunberg.
The honey-colored insect, measuring less than 1 millimeter, was discovered in Nairobi in the 1960s. But it apparently remained nameless until the museum's scientific associate Michael Darby stepped in.
"I am impressed with the work of this young campaigner and wanted to acknowledge her outstanding contribution in raising awareness of environmental issues," Darby said.
Sweden's Thunberg, 16, has injected a burst of energy into the climate change movement since launching her first school strikes one year ago. She has become a global pop culture icon.
(SD-Agencies)