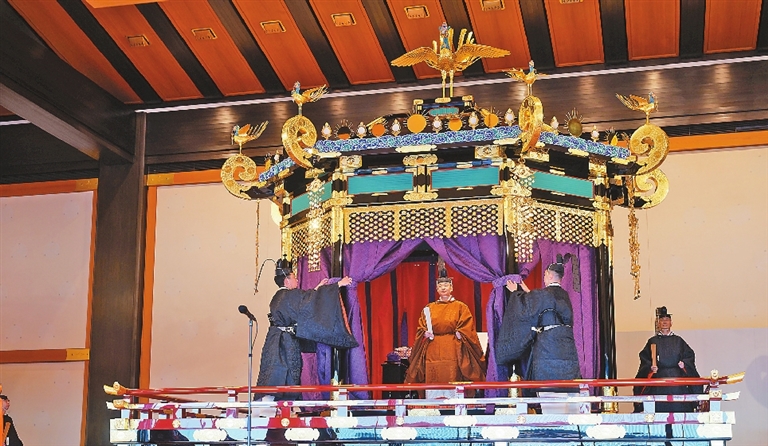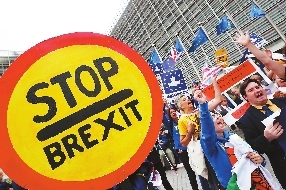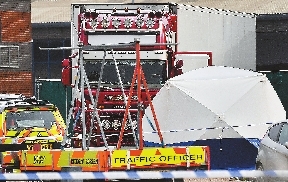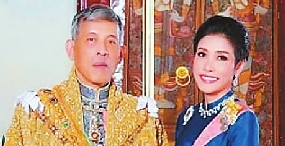 Naruhito ascends the Chrysanthemum Throne
Japanese Emperor Naruhito officially proclaims his ascension to the Chrysanthemum Throne during a ceremony at the Imperial Palace in Tokyo on October 22. Xinhua
EU nations agree to Brexit delay until January 31
The European Union on Monday agreed to a three-month flexible delay to the United Kingdom's departure from the bloc as British Prime Minister Boris Johnson pushes for an election after opponents forced him to request an extension he had vowed never to ask for.
Just three days before the United Kingdom is due to leave the EU on October 31, Brexit is hanging in the balance as British politicians are no closer to reaching a consensus* on how, when or even if the divorce should take place.
Johnson, who became prime minister by pledging — "do or die" — to deliver Brexit on October 31, was driven into requesting a postponement after he was defeated in parliament over the sequencing* of the ratification* of his divorce deal.
Panic in Pakistani city after 900 kids test HIV positive
Nearly 900 children in the small Pakistani city of Ratodero were bedridden* early this year with raging fevers that resisted treatment.
Parents were frantic*, with everyone seeming to know a family with a sick child, The New York Times said.
The city was the epicenter* of an HIV outbreak that overwhelmingly affected children in April. Health officials initially blamed the outbreak on a single pediatrician*, saying he was reusing syringes*. Since then, about 1,100 citizens have tested positive for the virus, or one in every 200 residents. Almost 900 are younger than 12. Health officials believe the real numbers are probably much higher.
Truck driver charged in connection with 39 deaths
U.K. police have charged a truck driver with 39 counts of manslaughter and conspiracy to traffic people in connection with 39 deaths in the back of the truck he was driving in southeastern England.
Police said on Sunday Maurice Robinson, 25, of Craigavon, Northern Ireland, is due to appear at Chelmsford Magistrates Court on Monday. He was the first of those arrested to be charged in what is seen as one of the U.K.'s biggest cases of people smuggling*.
Four others have been arrested in the case. U.K. police are struggling to identify the victims, who are believed to have come from Asia. The Vietnamese Embassy in London has set up a hotline for families to call about missing family members.
Thai royal consort loses titles
The King of Thailand has stripped his royal consort* of her titles, status and military ranks for being "disloyal," only three months after she was anointed*.
Sineenat Wongvajirapakdi, 34, had been bestowed the title of royal consort on July 28, the first woman to be given the rank in nearly a century.
But an official notice, released on last Monday by the Thai Royal Household, announced that King Maha Vajiralongkorn had withdrawn all of her royal titles and military ranks for her "ambition" in wanting to be "equivalent with the queen."(SD-Agencies)