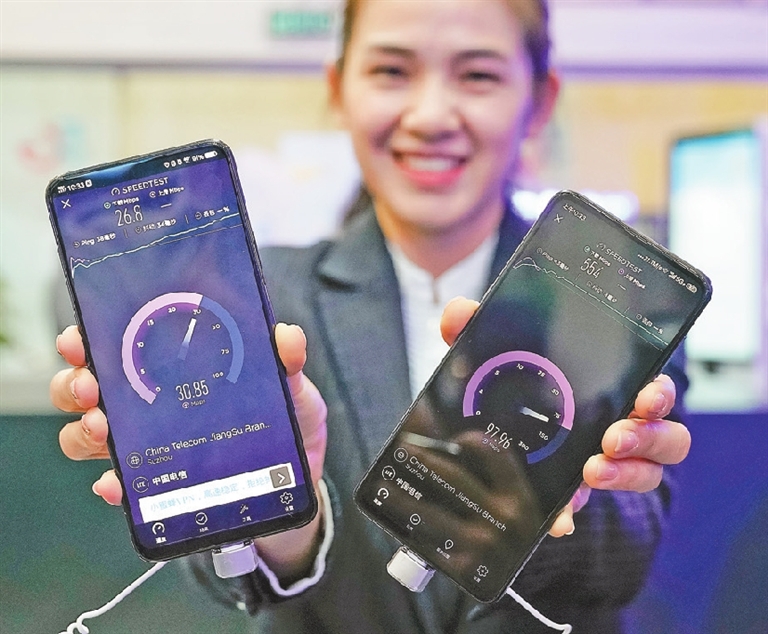 CHINA'S mobile carriers begin offering 5G mobile services, which offer dramatically increased transmission speeds, for the first time to the public Friday.
The country's three telecom operators jointly announced the launch of 5G commercial services at the opening ceremony of the PT Expo China, Asia's leading information and communications technology event, in Beijing on Thursday.
The data plans are now available and subscribers do not need to change their SIM cards or phone numbers to upgrade from current 4G services to 5G, according to carrier websites.
For China Mobile's 5G services there are five categories, starting from a 128-yuan (US$18) monthly package, which includes 30GB of data and 200 minutes of voice calls, to the highest at 589 yuan for 300GB of data and 3,000 minutes of voice calls.
China Mobile subscribers can add family members to a sharable plan for 169 yuan to 869 yuan per month.
China Telecom offers seven options, starting at 129 yuan for 30GB of data and 500 minutes of voice calls.
China Unicom has six options in two categories for users to choose from, with a starting price of 129 yuan for 30GB of data and 500 minutes. Customers can receive a 10-percent discount before Nov. 30 if they commit to the mobile plan for six months.
The operators have planned a combined capital expenditure of 302 billion yuan (US$43 billion) this year, including the costs to build 130,000 base stations.
The Ministry of Industry and Information Technology granted 5G licenses for commercial use in June, marking the beginning of a new era in the country's telecommunications industry.
China is expected to be the world's largest 5G market by user number with mobile subscribers exceeding 1.6 billion as of end-June.
As of early October, more than 10 million people in China had made online bookings for 5G services, pending the release of package prices, according to the carriers.
South Korea was the first country to introduce full commercial availability of 5G earlier this year, while some carriers in countries, including the U.S., the U.K. and Australia, have also rolled out the services in some areas this year.
The increase in speed from 4G to 5G will bring about increases in connectivity to other sectors such as big data, drones and home appliances, according to analysts.
(SD-Agencies)