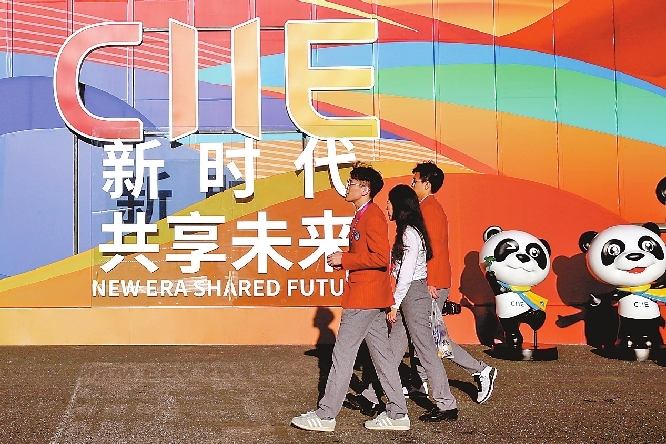 FOR U.S. agribusiness giant Cargill, preparations for the upcoming second China International Import Expo (CIIE) started the day the last expo ended.
"We nailed deals worth US$2.4 billion with Chinese companies during the first expo last November, which increased our confidence in the Chinese market. So this time, for the second expo, we have expanded our exhibition area and list of products," said Liu Jun, China president of Cargill.
Cargill is just one of the foreign enterprises that have tasted the sweetness of China's US$40-trillion "big import cake" baked at the inaugural CIIE, a brainchild of President Xi Jinping and a long-term mechanism to facilitate the country's opening up.
In his speech addressing the opening of the first CIIE, President Xi said China's imported goods and services are estimated to exceed US$30 trillion and US$10 trillion, respectively, in the next 15 years.
One year on, China has lived up to its promise to open its door wider and proved the trail-blazing expo is not a mere gesture.
Reinforced confidence
Just one month after the first CIIE, U.S. engineering firm AECOM set up its China headquarters in Shanghai, and its new Chengdu office and global delivery center in Changsha were opened this April.
"The first CIIE reinforced our confidence in China's business. It delivered a very clear signal of China's transformation to high-quality growth. We want to get ready to serve a more open China market," said Ian Chung, chief executive of AECOM for Greater China.
The company has been partnering with Chinese firms on many overseas projects, offering consulting services on design, local regulations, and environmental and safety standards.
"Chinese firms excel in construction and financing, while we share a competitive edge in project design, knowledge of local regulations, procedures and culture. It's a win-win for all of us," Chung said.
The experience of New Zealand milk brand Theland at the first CIIE was also a rewarding one. After participating in the first CIIE, the company's milk products have so far traveled all the way from the Southern Hemisphere to over 40,000 supermarkets in China.
Theland milk can land in Shanghai supermarkets as soon as roughly 72 hours after production and bottling near Auckland. The process used to take eight days. For products like fresh milk, with a usual shelf life of no more than 15 days, each hour matters.
"Thanks to the CIIE, imported commodities, especially food, now have access to more Chinese residents in small cities and towns," said Sheng Wenhao, chairman of the board of Theland New Cloud, which owns the brand.
Stronger US presence
More than 190 U.S. enterprises will attend the expo, occupying the most exhibition area among all participating countries. Some will be on their maiden trip while others are second-time participants at the massive event.
The 192 U.S. companies will enjoy an exhibition area of 47,500 square meters at the CIIE this year. A wide array of products is expected to be displayed, spanning from manufacturing to telecommunications, automotives and agriculture.
General Electric Company (GE), in its second CIIE appearance, will showcase its solutions for clean energy and unveil some eye-catching products, according to Rachel Duan, president and chief executive officer of GE Global Growth Markets.
With an exhibition area of 500 square meters, GE will display industrial equipment and digital solutions in the aviation, energy, healthcare, oil and gas, and intelligent manufacturing sectors.
It will be the first time GE presents its comprehensive solutions for China's clean energy development under one umbrella, Duan said.
At the first CIIE in 2018, GE saw its booth visited by over 400,000 domestic and foreign buyers and more than 800,000 other visitors and signed a number of deals.
During the first CIIE, deals for intended one-year purchases of goods and services worth US$57.83 billion were reached and more than 90 percent of the contracts were completed in the past year, showed the latest figures from China's Ministry of Commerce.
U.S. telecommunications equipment company Qualcomm expects to showcase at the import expo its cooperation achievements with Chinese partners in 5G smartphones, Internet of Things, Artificial Intelligence (AI) and smart cities.
Qualcomm has great confidence in the Chinese market and expects to further strengthen strategic cooperation with Chinese partners in the 5G age, said Frank Meng, chairman of Qualcomm China.
The yearning for greater cooperation is shared by Jiang Mingtao, a ginseng grower in Marathon County in the U.S. state of Wisconsin. Jiang plans to present in Shanghai his company's wild ginseng and grown ginseng gift boxes, ginseng cosmetics and ginseng liquor. All ginseng products to be displayed have been shipped to China in advance.
"We have the best ginseng products in the world, and the China import expo has provided a platform for us to bring the world's best ginseng products to Chinese consumers," Jiang said.
On the economic front, the CIIE "opens the door to U.S. exporters to sell goods and services in the vast Chinese market," said Khairy Tourk, a professor of economics at the Stuart School of Business of the Illinois Institute of Technology. "The country has developed a strong appetite for quality products," Tourk said.
Building bridges
This year's CIIE comes at a time when concerns run high worldwide about a backlash against unilateralism and protectionism. U.S.-initiated trade disputes around the world have taken a toll on many U.S. households.
The CIIE has provided a rare platform for cooperation between China and the United States, Tourk said, calling it "an innovative approach that no country has ever tried before to increase imports."
To deal with global trade imbalances, the professor added: "China is behaving as a responsible global stakeholder" by implementing measures to open the economy wider to the rest of the world.
The CIIE will have a greater spillover effect with positive participation and support from all parties, Chinese Assistant Minister of Commerce Ren Hongbin has said.
Tourk, the economics professor, pins his hopes on the "salient effects" that Chinese efforts to boost imports will have on "increasing global aggregate demand." "With protectionist sentiments on the rise, Chinese facilitation of cross-border trade is one more indication that China stands up as a defender of globalization and open markets," Tourk said.
(Xinhua)