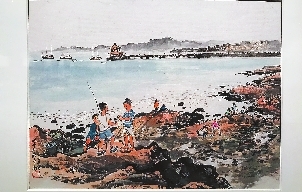 Cao Zhen
caozhen0806@126.com
INK and watercolor paintings depicting landscapes and life in the coastal Chinese city of Qingdao created by master Guan Shanyue (1912-2000) and 26 contemporary Chinese painters are on display at Guan Shanyue Art Museum. Entry is free.
As a lead painter of the Lingnan style of painting formed in the early 20th century in Guangdong, Guan was known for his magnificent mountain-and-river paintings and vivid depictions of human life. Since the 1940s, he traveled around China and Southeast Asia to paint from nature. In the 1950s, he painted beaches, parks and the Laoshan Mountain of Qingdao in Shandong Province, recording ordinary people's lives and Qingdao's unique coastal scenes and naval life. He also made a study tour to Dunhuang in Gansu Province to copy mural paintings in the caves and conducted careful research on the art of Buddhist painting.
"To follow master Guan's path, Guan Shanyue Art Museum and the Qingdao Academy of Painting organized a nine-day painting event in Qingdao, inviting 26 Chinese painters to paint Qingdao in various styles," said Chen Xiangbo, director of Guan Shanyue Art Museum.
Dates: Until Nov. 8
Hours: 9 a.m.-5 p.m., closed Mondays
Venue: Guan Shanyue Art Museum, 6026 Hongli Road, Futian District (福田区红荔路6026号关山月美术馆)
Metro: Line 3 or 4 to Children's Palace Station (少年宫站), Exit F2