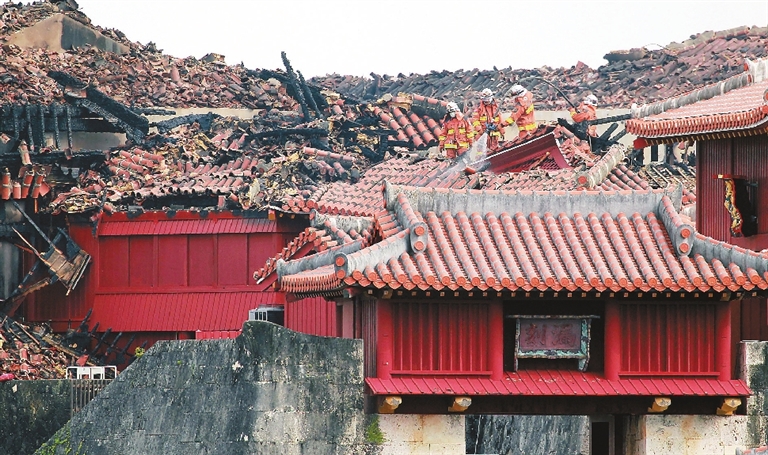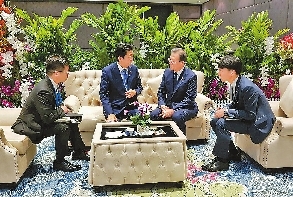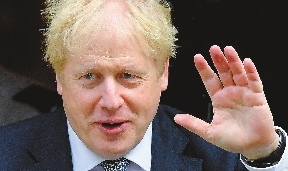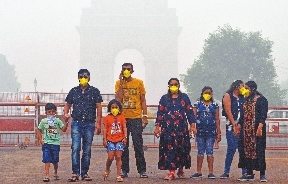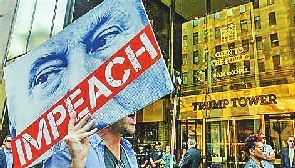 Fire engulfs World Heritage castle in Japan
Firefighters inspect the heavily damaged Shuri Castle in Naha, Okinawa prefecture, Japan, on Thursday. A fire started at Shuri Castle, a castle in Okinawa listed as a World Heritage site, destroying major buildings of the castle complex. There is no report of injury. The Shuri castle is a key part of a complex dating back to the Ryukyu Kingdom and is believed to have been in use from around the 1400s.
SD-Agencies
Moon, Abe hold 'friendly' talks
South Korean President Moon Jae-in and Japanese Prime Minister Shinzo Abe on Monday held their first talks for more than a year on the sidelines of a regional summit in Thailand, Moon's office said.
Ties between Seoul and Tokyo are at rock-bottom over a dispute related to Japan's use of forced labor during World War II, with the countries trading retaliatory sanctions. Moon and Abe held a "very friendly and serious" dialogue that lasted 11 minutes on the sidelines of the ASEAN Plus Three summit in Bangkok, Ko Min-jung, the South's presidential spokeswoman, told reporters. But she gave no indication of any concrete outcomes.
UK leader sorry for missing Brexit deadline
Britain's election campaign heated up on Sunday with Prime Minister Boris Johnson saying he would apologize to Conservatives for failing to take the United Kingdom out of the European Union by October 31.
He told Sky News on Sunday that it was a matter of "deep regret" that he failed to do so. Asked if he was sorry about missing the deadline, Johnson said: "Yes, absolutely."
Britain's House of Commons has voted for a snap general election on December 12, which is set to send the country to go to the polls for the first time in December in nearly 100 years.
Indian capital gasps under choking smog
India's capital New Delhi was enveloped* in heavy, toxic smog on Sunday — the worst levels in recent years — with flights diverted or delayed as politicians blamed each other for failing to tackle the crisis.
Concentrations of particles measuring less than 2.5 microns* hit the highest level of this season, exacerbated by light rains on late Saturday, India's state-run System of Air Quality Weather Forecasting and Research (SAFAR) said.
White House prepared for impeachment
The White House on Friday said it is "prepared for an impeachment to happen," as top House Democrats were suggesting an inquiry into U.S. President Donald Trump could be expected to move into public hearings this month.
White House press secretary Stephanie Grisham said she doesn't consider it a "foregone conclusion*" that the Democratic-controlled House will vote to impeach Trump in coming months but admitted "that's something we're expecting."
Vietnam sends delegations to UK over truck deaths
Vietnam Prime Minister Nguyen Xuan Phuc has sent a message of condolences to the families of victims and requested sending ministerial working groups immediately to Britain following news of the Essex lorry victims being Vietnamese nationals.
Phuc was briefed about the information from the British side by the Vietnamese Ministry of Foreign Affairs, according to the statement released on Sunday on the Vietnamese Government portal.(SD-Agencies)