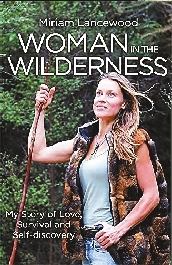 《米丽安的荒野人生》
This autobiography tells an inspirational story of adventure and bravery, of how one woman learned to dig deep and push the boundaries in order to discover what really matters in life.
Miriam Lancewood is a young Dutch woman living a primitive*, nomadic* life in the heart of New Zealand's mountains with her New Zealand husband Peter Raine. She lives simply in a tent or hut and survives by hunting wild animals, foraging edible plants and using minimal* supplies. For the last six years she has lived this way, through all seasons, often cold, hungry and isolated in the bush. She loves her life and feels free, connected to the land and happy.
This book tells her story, including the very practical aspects of such a life: her difficulties learning to hunt with a bow and arrow, struggles to create a warm environment in order to live, and attempts to cross raging rivers safely and find ways through the rugged mountains and dense bushes. This is interwoven with her adjustment to a very slow pace of life, her relationship with her much older husband, her thoughtful observations of the few other people they encounter* in this time, and her growing awareness of a strong spiritual connection to the natural world.
There's a lot of drama out there in the wilds and Lancewood knows how to spin a good yarn with tension, color and light, making this a gripping and engaging read.
Her book is a reminder to us of what is really important in life.
The author will share her experience with readers at a lecture that begins 3:45 p.m. tomorrow at Merchiston International School (MIS), a boarding school of British origin, in Longhua District.
(SD-Agencies)