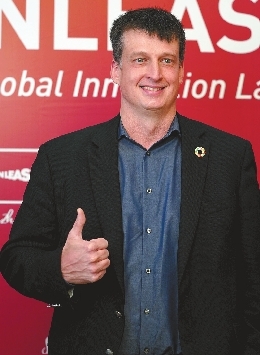 Zhang Yu
JeniZhang13@163.com
ROBERT KIRKPATRICK, director of United Nations Global Pulse, believes that the UNLEASH Innovation Lab being held in Shenzhen is going to be the beginning of an exhilarating adventure.
Global Pulse, Kirkpatrick's department at the United Nations, is an innovation initiative of the Secretary-General harnessing big data and artificial intelligence (AI) for sustainable development. It has set itself up as a service to U.N. agencies and governments around the world as an innovation lab for the discovery of new approaches.
According to Kirkpatrick, Global Pulse came out at a point when there was a recognition that we now live in a hyper-connected world where information moves at the speed of light and using 3- to 5-year-old statistical data to understand what's happening in real time does not work.
"So we see a couple of opportunities. One is in using the analysis of big data to generate measurements of progress toward the sustainable development goals. But more importantly, we see an opportunity in management, programs and policies as they're being implemented," he said.
Kirkpatrick believes that harnessing the full potential of big data allows us to get to a safer, healthier, fairer, more inclusive world, where we can detect the early signs of a problem and respond quickly.
"The real power of big data comes from using it for AI to predict what is going to happen and is around managing risks and understanding if our programs are working or what we need to change if they're not," said Kirkpatrick.
Although it is his first time in China, Kirkpatrick thinks the trip has been incredibly exciting so far. "In some ways, it seems very familiar to me. I used to live in Silicon Valley and the energy here is incredible."
Kirkpatrick told the Shenzhen Daily that Shenzhen has a reputation for being able to move very fast, and part of the reason that he's here at UNLEASH is to ask everyone to help.
"The sustainable development goals are very exciting, but we're four years into this journey and progress is not where it needs to be. We need to accelerate our innovation to be able to achieve these goals by 2030, and we cannot do that without private-sector companies that can innovate very quickly, learn from their mistakes and do it again and again," he said.
Kirkpatrick thinks that tech companies in Shenzhen have an opportunity to understand where there are business opportunities that can also have real social impact.
"Shenzhen is an amazing place to hold UNLEASH and I think it's going to be the beginning of something very exciting," Kirkpatrick said.
UNLEASH 2019 officially kicked off in Shenzhen yesterday and will run through Nov. 13.