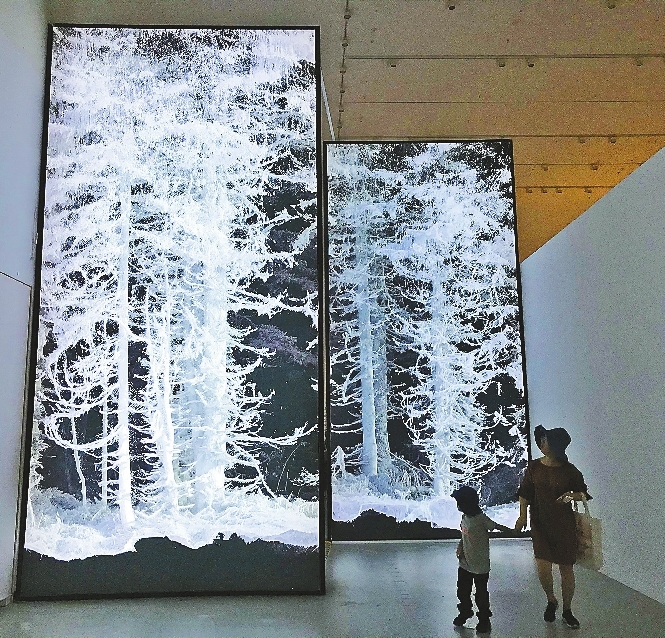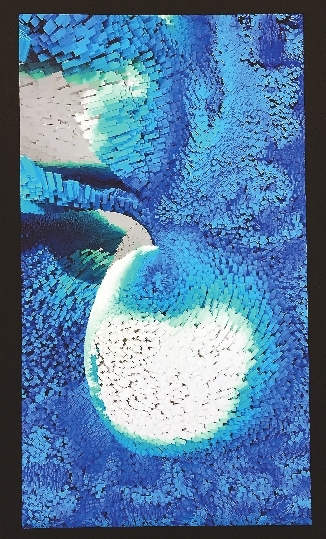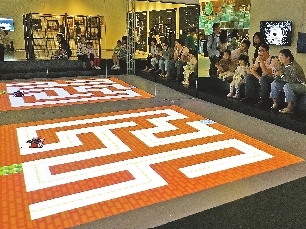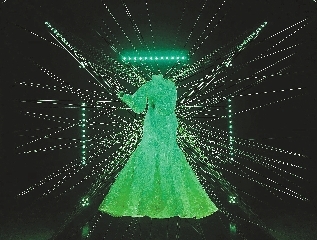 Cao Zhen
caozhen0806@126.com
THE "40 Years of Humanizing Technology — Art, Technology, Society" exhibition presented by Design Society in Shenzhen, Central Academy of Fine Arts (CAFA) from Beijing and Ars Electronica from Linz, Austria invites visitors on a spectacular journey to the future and deeply delves into a disruptive revolution that has been affecting humans all around the world.
The 30 exhibited items, most of which are Prix Ars Electronica award winners, were created between 2011 and 2019. The exhibition is an Aladdin's cave of objects employing advanced technologies such as artificial intelligence (AI), machine learning, data visualization, 3-D printing, genetic modification, and dynamic-capture and open-source software. Outside the sophisticated technologies are dazzling products while inside is a soft and poetic core.
German work "Meandering River" is an audiovisual art installation comprising real-time visuals and music created by AI through machine learning. The piece reinterprets the shifting behavior of river channels regarded from a bird's-eye view. Minor changes to river channels are not visible to the naked eye, as they happen gradually over time, but spanning over six screens, "Meandering River" visualizes these altering landscapes and makes the changes visible. It leaves observers with a unique perception of time.
U.S.-based Refik Anadol Studio collected a whole year's data on wind in Shenzhen and developed a set of customized software to analyze such data to create "Wind of Shenzhen," a site-specific work that turns the invisible patterns of wind into a huge digital image. The resulting artwork has emotive aesthetics, making the invisible wind visibly beautiful.
"Modified Paradise: Dress," created by AnotherFarm from Japan, is a magnificent luminescent gown made with silk produced by genetically modified silkworms, which were developed by adding the genes of glowing jellyfish and corals to their DNA. The dress, which floats within a frame with no body, encourages visitors to think about the extreme and limitation of the interactions among art, science and technology.
"Remains" is an ongoing project focused on nature and the tradition of landscape paintings. In his "Remains: Vallée de Joux," Italian artist Davide Quayola uses high-precision laser scanners to capture natural landscapes in high resolution, resulting in complex digital renderings printed on large paper in light boxes. The combination of highly detailed geometric reconstructions and the imperfections of the 3-D scanning process create hybrid formations, somewhere in between the real and the artificial. His work "Pluto & Proserpina" is a pair of 3-D-printed sculptures inspired by Michelangelo's aesthetic style "non finito." The two sculptures explore the tension between form and material, reality and virtual, new and old.
"The main focus of the exhibition is those 'species' from the art world — media artists who have been and continue to be permanent critical companions. They were and are capable of positioning new technologies in society with their alternative approaches and ways of thinking, and with their philosophical farsightedness and their technical ability — far beyond critical, catalytic reflection — to make them accessible and draw new, unexpected connections. The focus is always on the human being, not on technology," said Martin Honzik, curator and senior director of Ars Electronica.
Honzik co-curated the Shenzhen exhibition with Qiu Zhijie, dean and professor of the School of Experimental Art at the CAFA. China's cutting-edge works of art, science and technology have also formed an enlightening dialogue with these international works. Visitors can ask AI Xia Yubing to draw a digital painting based on a word you tell it. Born in 2014, Xia, developed from Microsoft AI Xiaoice, has studied the works of 236 famous human painters that defined art history throughout the past 400 years. Xia's paintings, acclaimed for having Corot's poetic strokes and Rembrandt's dark shades, were exhibited at CAFA's graduation exhibition this May.
Founded in 1979, Ars Electronica is the world's oldest and largest platform for art, science and technology. The Shenzhen exhibition also presents the history of the festival and a systematic overview on the development of art, science and technology in China and the West in the "Ars Electronica in Shenzhen" section. Decades-old calculators and stereoscopes displayed here demonstrate that it all happened quickly that humans have irreversibly entered a world of omnipresent technologies, and it is just the beginning.
Dates: Until Feb. 16, 2020
Hours: 10 a.m.-7 p.m. (Mon.-Fri.), 10 a.m.-9 p.m. (Sat.-Sun.)
Tickets: 98-118 yuan
Venue: Main Gallery, Sea World Culture and Arts Center, 1187 Wanghai Road, Nanshan District (南山区望海路1187号海上世界文化艺术中心一楼主展馆)
Metro: Line 2 to Sea World Station (海上世界站), Exit A