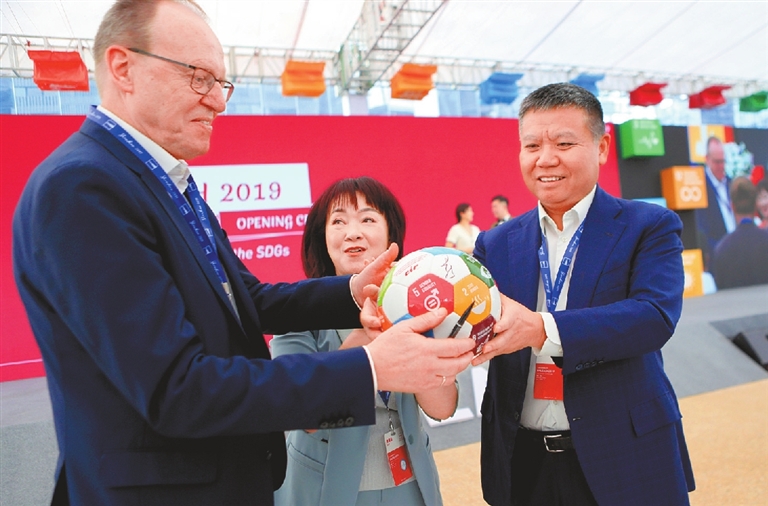 Han Ximin
ximhan@126.com
AMID the cheers, applause and excitement of more than 1,000 young talents from 162 countries and regions, the 2019 UNLEASH Innovation Lab started in Shenzhen in an innovative way yesterday.
The enthusiasm of the participants, selected from 18,000 applicants in 182 countries and regions, was ignited when Shenzhen Vice Mayor Wang Lixin threw a soccer ball into the audience for signatures so they could share their commitments to the innovation event that is being held in China for the first time.
The venue of Shenzhen Bay Tech-Eco Park became the home field for the talents at the launch ceremony yesterday. In the coming seven days, they will be tasked with coming up with solutions to the world's problems under the U.N. 2030 Sustainable Development Goals (SDGs) with innovative and creative ideas and through teamwork. They will go through a facilitated innovation process by exploring the real-life challenges in Shenzhen under eight themes, including health, education, water, energy and infrastructure, before offering their solutions.
"Shenzhen is one of the world's most tech-savvy cities. Being a headquarters for many high-tech companies, an attractive place for startups, and a city dedicated to sustainable development, Shenzhen is the first choice for UNLEASH 2019," said Flemming Besenbacher, chairman of UNLEASH, Carlsberg Group the Carlsberg Foundation, at the launch ceremony.
UNLEASH started as an idea and has grown into an actual, global movement in three years after successful events in Denmark and Singapore, Besenbacher added.
"It is about hard work, and bold, innovative ideas with respect to some of the 17 SDGs.
"Shenzhen Speed denotes the ambition of youth and its extraordinary growth story —from a small fishing village to an impressive Chinese megacity and global tech hub in 40 years," said Besenbacher, hoping that young talents will experience Shenzhen Speed and display this speed while helping to create a better and more sustainable world.
In the speech, Vice Mayor Wang said hosting UNLEASH in China shows world recognition of China's implementation of the U.N. 2030 Agenda for Sustainable Development, helps people from different countries better understand China's development path, and enhances friendship among all countries.
"As China's city of innovation, Shenzhen is one of the first batch of cities to be designated as pilot demonstration zones for China's national sustainable development agenda," said Wang.
UNLEASH 2019 is hosted by China Association for Science and Technology and the Shenzhen Municipal People's Government and organized by Shenzhen Industrial Design Profession Association.
(Special report on P2)