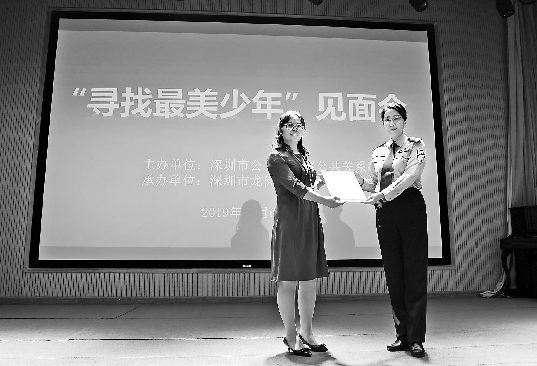 Han Ximin
ximhan@126.com
AN encounter and joint effort between a group of schoolchildren and police officers led to a joyful moment yesterday as they celebrated the success of their music video winning a national prize.
Recently, a music video called "Testimony of Loyalty" produced by the Shenzhen police was voted for by netizens and selected by All-China Federation of Workers' Unions and Cyberspace of China as one of the year's top 10 music videos.
"After receiving the award, and to share the joy of success, we started looking for the children that participated in the shoot at Civic Square when we encountered them at the southern square of Shenzhen Civic Center, and finally we learned they are students at Longgang Primary School of Shenzhen Middle School," Lu Xiao, deputy chief of the public relations department of the Shenzhen police, said at the ceremony.
Shenzhen police were shooting a music video May 22 to mark the 70th anniversary of the founding of the PRC when they encountered students from the Longgang school at the Civic Center. The students were also making a music video to mark the national celebration.
"We invited the students to join us, and after practicing and shooting many times, we finally made the music video that ended up winning a huge online audience and received the award," Lu recalled.
The Shenzhen police published a book, which is a collection of stories about Shenzhen police officers, in 2018 and decided to make a music video to show the unforgettable moments of the Shenzhen officers. During the shoot, the 35 students created many warm moments and pictures.
"I think the pictures touched the hearts of the panels and judges, in addition to the film's artistic skills, and finally earned us the top award," recalled Lu, who had come with her music video team to share the happiness with the students.
Li Yumei, a teacher at the school who organized students to shoot the school's music video called "My Country and My People," thought the encounter would leave an unforgettable memory with the students.
"2019 is a significant year with many milestone events for both Shenzhen and China, and we are happy that our students became a part of the music video," said Li.
Li and her students were also thrilled when Lu presented a letter inviting them to attend the Shenzhen Police Open Day on Nov. 30 as important guests.