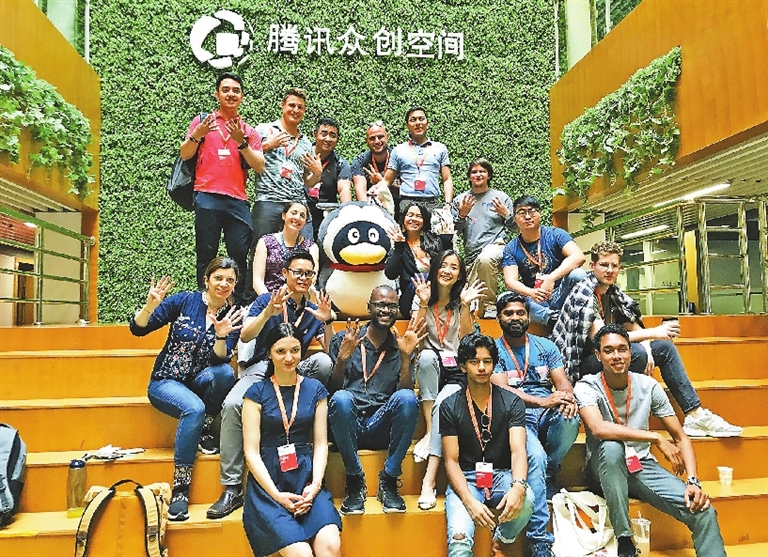 Yu Yuanfan
aimee3031@126.com
OVER 120 young talents have gathered at Tencent WeStart in Software Industrial Base in Nanshan District. Starting Thursday, they will be brainstorming ideas to address the United Nations' Sustainable Development Goals 9 — industry, innovation and infrastructure.
Egypt and U.S.-based Ashraf A. Ismail is the executive director of KnowArk, a project that provides online education to refugees across the world. He has participated in similar events before and has high expectations for UNLEASH 2019.
"A lot of talented young people are going to be coming up with lots of crazy solutions about SDG 9," said Ismail. "My expectation is to see more of our solutions actually being implemented rather than just being left at the solutions level. I'm expecting around 10 percent of the solutions to be curated and people are going to take actions to implement them."
For Yang Liu, founder of a measuring equipment company based in Beijing, UNLEASH may bring everyone something outside their existing knowledge spectrum.
"We have been studying or working in our respective fields for a long time, dealing with problems very specific to certain areas. But there are things that people in one area may take for granted, but people in another area just don't know, so your knowledge in your field may just be a huge inspiration for someone else and vice versa. I think this is the most interesting part of the event."
Representation of the host city Shenzhen can be found at this venue. Liu Nianhua is a sophomore at Sun Yat-sen University. He said the combination of his academic background, interest in issues concerning the United Nations and love for the city prompted him to sign up for UNLEASH 2019.
"I am majoring in geographic information systems and therefore pay a lot of attention to ICT and relevant technologies. I'm also concerned about issues the United Nations tries to address, such as sustainable development. These, coupled with the fact that UNLEASH 2019 will be hosted in the city that I live in, means I have every reason to sign up for it."
When asked about how he feels about the city hosting UNLEASH, Liu said Shenzhen is the perfect place to host such an event.
"Shenzhen itself is the birthplace of many innovations, and the city attaches great importance to cutting-edge technologies. This makes it very suitable for hosting events like UNLEASH," said Liu. "I'm happy to know that many of my peer talents have a very good impression of the city and want to know more about it. Hopefully the clashes between different cultures and ideas can lead to some good solutions."