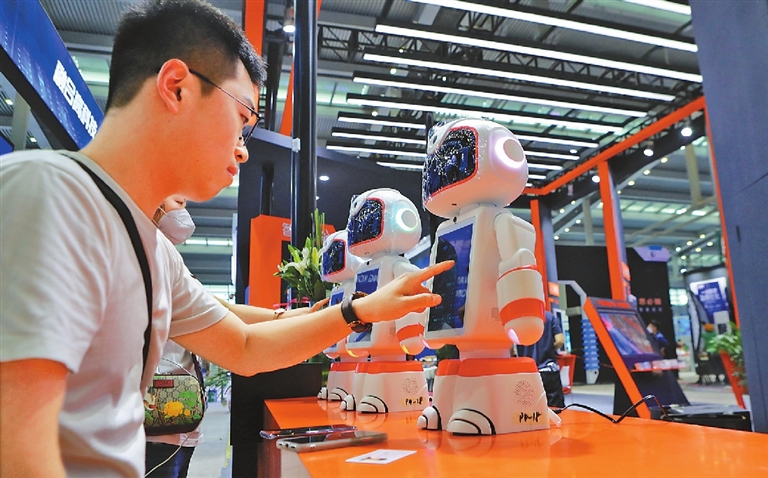 Han Ximin
ximhan@126.com
HEAVYWEIGHT speakers from home and abroad will be invited to lecture on cutting-edge technologies, international cooperation and technological innovation in the Guangdong-Hong Kong-Macao Greater Bay Area at four key forums during the 21st China Hi-Tech Fair (CHTF), which opens at Shenzhen Convention and Exhibition Center in Futian District today, a press conference announced yesterday.
The five-day fair — the first CHTF since China issued an outline development plan for the Greater Bay Area (GBA) and a document on building Shenzhen into a pilot demonstration area of socialism with Chinese characteristics — will highlight technology cooperation in GBA cities as well as international exchanges in economics and trade.
A forum this afternoon titled "Energetic GBA and Technological Innovation" will kick-start the four forums in two days by inviting economists and representatives of bay areas around the world and research institutions to share the modes and prospects for technological cooperation in bay areas.
The speakers, including Wang Yiming, deputy chief with the State Council Development Research Center, and Ba Shusong, chief economist of China Banking Association, will share ideas on technology innovation, international cooperation and economic development in the GBA with the attendees.
Tomorrow, 14 academicians, scholars and entrepreneurs will share their insights into the technologies that will shape the future, such as AI+, life science, arithmetic revolution, 5G and the post-5G era.
"We are trying to build a high-level, professional and international exhibition brand serving the construction of the GBA and the demonstration area, and a platform linking Hong Kong, Macao and Pearl River Delta cities," Shenzhen Vice Mayor Wang Lixin said at yesterday's news conference.
This year's CHTF, covering 142,000 square meters of floor space, will attract 3,300 domestic and overseas exhibitors to display 10,000 projects and products, and more than 500,000 businesspeople, investors and visitors from over 100 countries.
The fair will roll out 250 activities.
During the fair, a talent job fair, an emergency and safety science exhibition and popular science exhibitions will be held at the three subvenues across the city.
Delegations from 44 countries and international organizations will participate in this year's CHTF.
Statistics show there are a total of 40,000 high-tech enterprises in the Guangdong-Hong Kong-Macao Greater Bay Area and more than 400,000 engineers and scientists engaged in research and development. Among this year's Fortune Global 500, 20 Chinese enterprises are headquartered in the GBA, accounting for 15.5 percent of all the Chinese companies in the ranking.