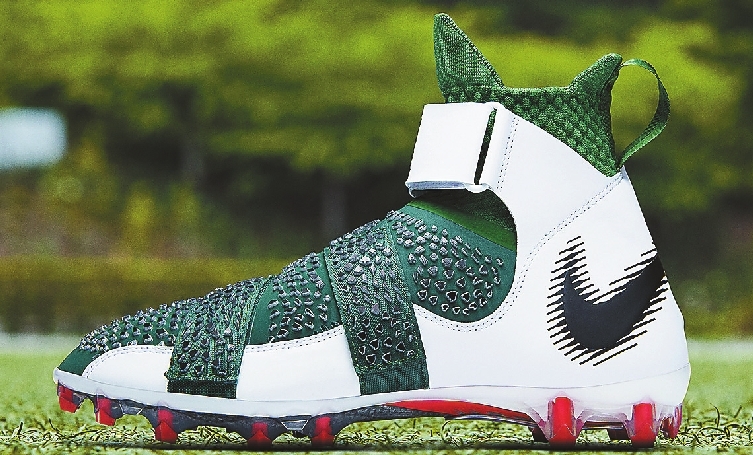 After developing FlyEase shoes based on LeBron James and Michael Jordan models, Nike has adapted its technology for zip-up basketball sneakers to a whole new sport: American football.
These unique cleats* are made for Seattle Seahawks linebacker* Shaquem Griffin. Griffin is in his second season as an NFL* player, but unlike many others, he has one hand. His left hand did not fully develop due to amniotic band syndrome* and was amputated* at age 4.
Similar to the FlyEase models, the Shaquem Griffin shoes manage to create a heel entry that's easier to put on for someone with one hand, while maintaining the structure and stability needed to make the powerful moves of a football player. That way Griffin can focus on his game, not his shoes.
Nike has created shoes for many extraordinary* players, and these sneakers have had the usual process of prototyping*, fit tests and direct contact with Griffin to get the cleat game ready. In order to perform the way he needs them to, the company is referring to them as more of a "battle sock," where instead of using laces to adapt the fit to the wearer's feet, they tightens with a three-strap system that secures both sides, and a knit cuff at the top that stretches so he can get his feet into them quickly.
According to a Nike spokesperson, "We're really trying to create a natural extension of Shaquem's feet while still containing his feet over the plate because in reality, an NFL athlete is only looking for two things: augmented traction on the bottom of their foot and augmented protection around their feet."(SD-Agencies)