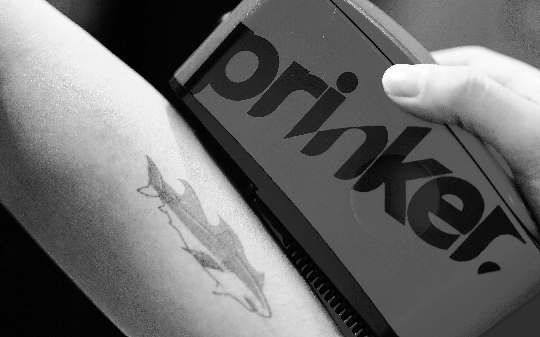 Yang Mei
yangmei_szdaily@163.com
FOR many young people, getting tattoos is a mode of self-expression that shows their personalities. However, many may flinch at learning that getting tattoos involves some pain and the patterns remain there for life.
"Prinker," dubbed "the world's first skin printer," offers a temporary and painless tattoo solution. The device was showcased at the 21st China Hi-Tech Fair (CHTF), attracting long lines for the experience.
Developed by SketchOn Inc., a tech company in South Korea, the skin printer uses cosmetic grade ink that is non-toxic, waterproof and won't harm your skin.
It only takes several seconds to get a tattoo. You can select a pattern, such as sharks, unicorns or red lips, from the device's accompanying app or you can make your own, either using your name, a doodle or anything you can think of.
The portable "skin printer" is about two times the size of a computer mouse. The base of the device runs over your skin, and in a blink of an eye, you've got yourself a tattoo.
The company's co-founder and COO Luke Yun said that the tattoos can last for three days and wash off with soap and water.
He also said the "skin printer" is a great tool for concerts, parties or promotional events, adding that his goal at the CHTF was to get more Chinese people to know about the product and look for agents in the Chinese market.
"Prinker" has an official overseas store on JD.com, and one device is priced at 2,800 yuan (US$399).