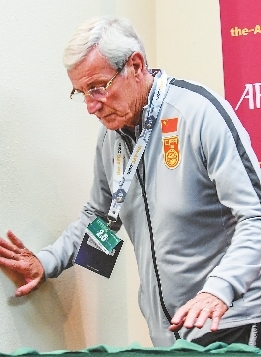 CHINA is searching for a third coach this year after the Chinese Football Association (CFA) accepted Marcello Lippi's resignation following the damaging loss to Syria in World Cup qualifying.
A clearly infuriated Lippi, the 71-year-old Italian World Cup winner, made a brief but angry appearance in front of the media after the 2-1 defeat Thursday in Dubai. "My pay is very high and I take all the blame. I am quitting as China coach," he said.
Lippi then abruptly left the press conference, walking out before translators had even finished interpreting what he was saying. His second spell as China coach lasted only six matches.
Hours later, the Chinese Football Association (CFA) said in a statement that it accepted Lippi's resignation. The priority for the CFA is to summarize the problems and discuss its next steps, and to also appoint a new China coach, who should be responsible and familiar with the CFA League and team members, and set up suitable tactics for them.
Veteran coach Luiz Felipe Scolari could be interested in taking charge of China's national team following the departure of Lippi, sources close to the Brazilian told Xinhua on Saturday.
Scolari's press adviser, Acaz Fellegger, said the 71-year-old "would listen to an offer" if approached by the CFA about the vacant role.
Scolari, who led Brazil to the 2002 World Cup title, has been out of work since September, when he was sacked by Palmeiras just nine months after leading the club to the Brazilian Serie A title.
Syria's victory left the side comfortably atop Group A in qualifying for the Qatar 2022 World Cup.
China is five points behind, only above the Philippines on goal difference, putting its World Cup hopes in peril.
Lippi reportedly earned 180 million yuan (US$25 million) per year, making him one of the best-paid coaches in the world.
(SD-Xinhua)