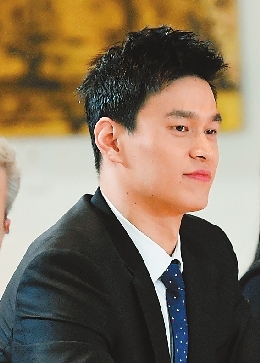 THREE-TIME Olympic swimming champion Sun Yang said he is innocent at a Court of Arbitration for Sport (CAS) public hearing in Montreux, Switzerland, on Friday.
Sun sat before sport's highest tribunal to clear his name after the World Anti-Doping Agency (WADA) appealed against him and FINA over FINA's previous decision in favor of Sun on his alleged anti-doping rule violations.
"I am innocent," said Sun, 27. "I believe the panel will make a fair decision and find me innocent."
Sun's speech was briefly interrupted when a man suddenly appeared beside the swimmer and tried to replace the translator that Sun clearly was not satisfied with.
The man was persuaded to leave before Sun continued: "It is important to fight against doping, but it is also important that the regulations are complied with by everyone, including the anti-doping organization itself. Otherwise, everyone here behind me now can be the doping officers without training and officially authorized accreditation."
CAS panel president Franco Frattini closed the one-day hearing as he thanked the nine people, including Sun, who testified in only the second public hearing in CAS history.
Sun refused to complete a doping test conducted by the international testing company IDTM on Sept. 4, 2018, saying the Doping Control Officer (DCO) and her assistants lacked sufficient authorization and credentials. His case was heard by FINA who decided Jan. 3 this year that the swimmer was not guilty of anti-doping rule violation. WADA disagreed and appealed the decision.(Xinhua)