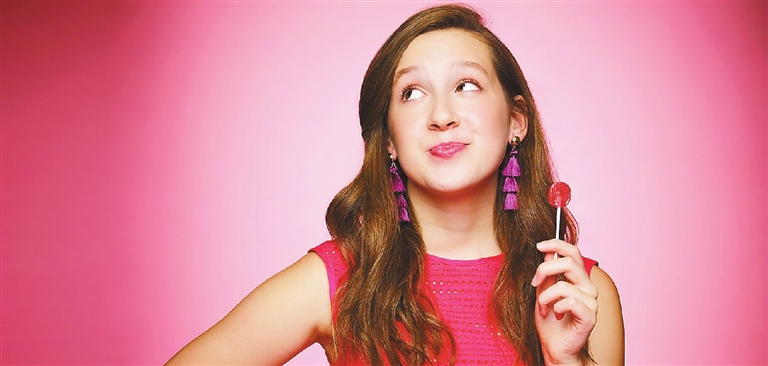 14岁女孩和她的糖果王国
In many ways, Alina Morse is a typical 14-year-old. A high school freshman, she loves cheerleading and hanging out with her friends and is always on her phone.
But she has a good reason for all that phone time. Unlike a typical 14-year-old, Morse is also running her own sweets empire, Zolli Candy, which makes treats that are actually good for your teeth.
Zolli Candy is sold in about 25,000 major retailers across the United States, including Walmart and Walgreens, and the company's first product, the Zollipop, is the No. 3 best-selling lollipop on Amazon. They taste like normal sweets but are sugar-free since they're made with low-calorie substitutes like xylitol and erythritol.
And business is booming. Inc. ranked Morse's business, of which she is CEO, as one of 2019's fastest-growing private companies, earning an estimated US$2.2 million in profits last year.
Still, Morse insists she's not all that different from your average teen. "I am just a tenacious person that loved candy," she told InsideEdition.com.
Queen of candy
Morse came up with the idea for healthy candy when she was just 7 years old. She had accompanied her dad, Tom Morse, on a trip to the bank. A teller offered Morse a lollipop and her dad said no, warning of the perils of sugar.
"Why can't we make a lollipop that's good for you?" Morse asked her dad. He didn't have an answer.
So when she got back to the family home in Wolverine Lake, Michigan, Morse turned to YouTube to learn how to make candy. She went to work at her family's kitchen table, replacing the unhealthy ingredients with good ones.
Morse also found an ally in various local dentists and hygienists, who she said were "crucial" to Zolli Candy's success. "They suggested erythritol and xylitol [instead of sugar]," Morse said. "After researching them, I included those ingredients in the Zolli formula."
After two years of testing, Morse used US$3,750 of her savings (plus a match from her family) to have Zolli Candy's first product, the Zollipop, manufactured professionally. Aged just 9, Morse pitched it to a regional Whole Foods, which agreed to sell it.
Balancing business and homework
Despite running her own business and doing all that involves — attending sales meetings and trade shows, and even giving a TEDx Talk — Morse goes to school full time.
This fall brings new challenges as Morse heads to high school. She will be taking mostly standard ninth-grade classes, save for marketing, where she's been bumped up a year because of her real-world experience.
She does her homework wherever she can, whether it's at home, on her fluffy chair in her Zolli Candy office or at the airport when she's traveling for work. Balancing school and Zolli Candy can be tough, but Morse says she is supported by her staff as well as her family.
One of the biggest obstacles Morse faces? Proving to other business professionals that she's serious.
"It's difficult occasionally when I walk into a meeting and people kind of give you the 'who's she?' kind of look, because I'm a kid running a company and people tend to be pretty skeptical about that," Morse said. But they soon realize their doubts are unfounded. "I'm like, 'Give me 10 minutes.' I'll talk and [they'll] realize I know my stuff."
Making kids smile
When Morse created Zolli Candy, she did so with the intention of making a tasty treat that also helps kids improve their dental hygiene.
Because of that, 10 percent of Zolli Candy's profits go to supporting oral health education in schools. Morse also organized the Million Smiles Initiative, in which free Zollipops are given out in schools to teach kids about the importance of caring for your teeth.
Morse's ultimate goal? To see Zolli Candy become the No. 1 best-selling treat in the U.S. (SD-Agencies)