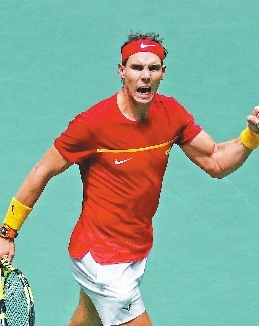 RAFAEL NADAL accomplished his 25th consecutive Davis Cup match victory after crushing Russia's Karen Khachanov 6-3, 7-6 as Spain won 2-1 in Madrid on Tuesday.
Nadal's victory came after Andrey Rublev had given the Russians the early 1-0 lead by outclassing Roberto Bautista Agut 3-6, 6-3, 7-6 in the opening tie. After the Spaniard legend leveled the score at 1-1 with his win in the second singles, veteran duo Feliciano Lopez and Marcel Granollers outclassed Khachanov and Andrey Rublev 6-4, 7-6 to seal a 2-1 win.
Interestingly, Nadal's appearance at the newly-modified version of the 119-year-old competition ensured a sell-out crowd in the 12,500-seat stadium and chants of "Rafa, Rafa" were echoed around the arena when the tennis icon entered the court punching the air.
The pressure was very much on Nadal and the Spanish side as Rublev overpowered Wimbledon semifinalist Bautista Agut to take the lead against the home side. However, Nadal didn't buckle under pressure against Khachanov and emphatically played a savior for his side. He had won each of his last 24 Davis Cup singles rubbers since losing on his debut in 2004 and the victory Tuesday made it a terrific 25th for the greatest clay court player of all time.
Although Khachanov stretched him to the breaking point at times, the 19-time Grand Slam champion reigned supreme and fought off a set point before grabbing a much-needed victory for the Spaniards. "The format makes things very difficult because every mistake puts you in a position that you don't want to be," Nadal told reporters while speaking about the new format of the tournament.
"The atmosphere has been amazing. The only negative thing in my opinion is we are just starting the last match at 1 a.m. That makes big trouble for us, for the players and the people who come to the stadium because tomorrow is a work day," he added.
(SD-Agencies)