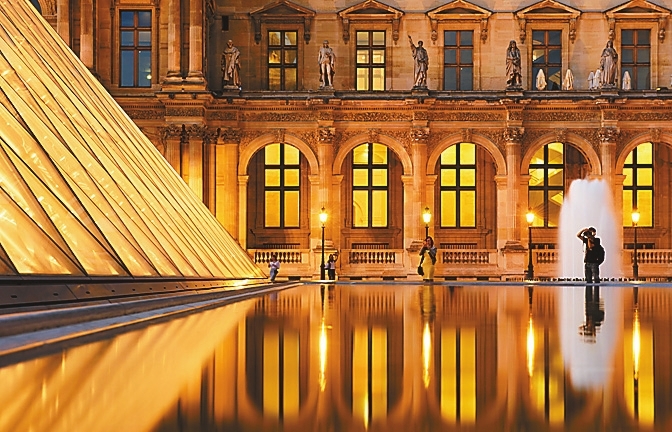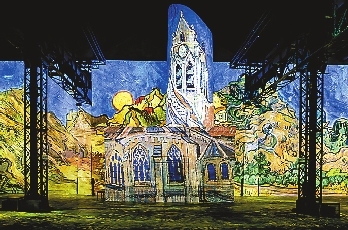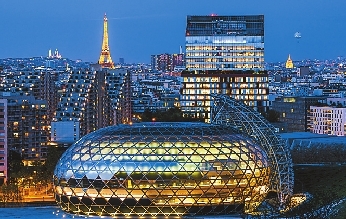 Debra Li
debra_lidan@163.com
EVER wandered through Paris and got the feeling that every other person is a tourist? You wouldn't be far wrong.
Of the 20 most-visited cities on Earth, the French capital is where overseas visitors outnumber locals the most, according to a previous survey by On The Go Tours.
Just 2.2 million people call Paris home, but around 50 million are expected to have traveled there this year. Ranking seventh in terms of number of outbound tourists visiting Paris, China saw some 1 million travelers make the trip in 2019.
While you might think it's half a world away, Paris is in fact only 13 hours away since the first direct flight from Shenzhen was launched Dec. 21 last year by Hainan Airlines, shortening the travel time to just 13 hours 20 minutes.
There are more flight options departing from neighboring Guangzhou, operated by China Southern Airlines and Air France.
Upon arrival at the Paris Charles de Gaulle Airport, you will find it easy to navigate the huge venue, as signs in simplified Chinese will guide you around. Some 150 Mandarin-speaking staffers also work at the airport.
While in Paris, tourists can enjoy high-speed Wi-Fi service. A universal tourist pass allows the unlimited use of all public transport and visits to many attractions. For transactions, WeChat, Alipay and UnionPay are all accepted.
Chinese tourists can also call 0803 300 800, a Mandarin service from 7 a.m. to 10 p.m., to ask for all types of information.
The Paris Region Tourist Board (Regional Tourism Committee, abbreviated to CRT) has also been providing accurate tourism information on fliggy.com since the end of last year.
A favorite destination for Chinese tourists, Paris has its unique appeal with its historic architecture, numerous art legacies, delicate food and wine, and bustling night life.
"You can explore the city on foot, by bike, on a bus or by hiring a retro sedan," said Sylvie Legars, an official with Paris Region Tourist Board, during a news briefing in Shenzhen last week.
People can take a stroll on the scenic walkways along the banks of the Seine, or they can take a boat tour down the river. Most boat tours also offer song and dance performances as well as meals.
There are many art exhibitions year round in Paris. Until early next year, the historic Pompidou Center is hosting a show dedicated to famed Irish-born painter Francis Bacon; the Luxembourg Museum is paying tribute to the Golden Age English paintings which flourished during the second half of the 18th century; and Marquette University's original manuscripts and drawings by author J.R.R. Tolkien are on display at the National Library of France. Grand Palais has an exhibition dedicated to Henri de Toulouse-Lautrec, best remembered for works like "The Streetwalker" and "At the Moulin Rouge."
Besides visiting museums, art lovers can also visit the Saint-Ouen flea market, where they may experience the joy of discovering hidden gems.
A popular tourist pastime in Paris is to sit at a cabaret in the evening. The Latin Paradise, located in the heart of the Left Bank, is just a few minutes' walk from Notre Dame and the Pantheon. The place has introduced a new show to celebrate its 130th anniversary this year.
Apart from the annual French Open (tennis), Tour de France and numerous running events ranging from marathon to less-than-10km races, the Qatar Arch of Triumph Racing Tour each October is one of the most respected horse races in the world.
In 2024, Paris will also host the Summer Olympics.
Although Chinese tourists only rank seventh in the number of all overseas tourists to Paris, the revenues they contribute rank second, with an average of US$1,131 spent by each visitor last year.
For many who visit Paris, shopping is another theme.
More than 1,000 types of merchandises are available at the duty-free shops at the Paris Charles de Gaulle Airport, which also boasts many choice restaurants. Four of them have Michelin-starred chefs cooking for guests. Teppan, the new restaurant of starred Chef Thierry Marx, won the Airport Casual Dining Restaurant of the Year at the FAB Awards this year.
The airport has also set up cash refund offices, where tourists can choose between cash or bank card repayments for their tax refunds.