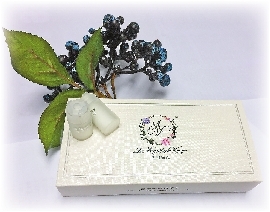 THE first product by La Magnifique Voyage, a brand by Shenzhen-based Hai'an Technology Industrial Co. Ltd., was unveiled Monday afternoon at the Coastal City mall.
The white serum powder, packed in tiny plastic bottles, promises to moisturize, hydrate and rejuvenate the skin by restoring and stimulating the growth of collagen.
The powder also promises to reverse skin damages due to aging, exposure to UV and air pollution by regulating its metabolic activities and boosting its immunity.
According to the company's official release, the core technology used in the product works by influencing the exosomes of skin cells and was developed by cell biologist Ji Guangju, a fellow of the Chinese Academy of Sciences.
The serum powder also contains nano-scale molecules, which make it easily absorbed by the skin.
The brandname means "a wonderful journey" in English.
(Yang Mei)