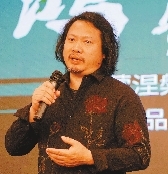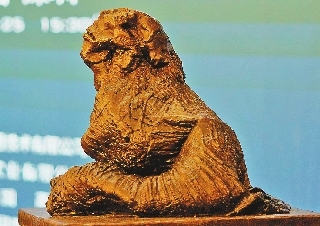 Wang Haolan
Holly_cn@163.com
WHILE the story of Huawei's self-developed operation system "Hongmeng" is oft-told by techies, Hakka sculptor Zeng Sheng is delving into a more artistic explanation of the same mythical phrase, which means "embryo of the world."
In Chinese mythology, hongmeng refers to the initial chaos of the prehistoric world, where the sky and the earth were mixed together. Therefore, Zeng decided to introduce the concept of Taoist dualism to the "Hongmeng" sculpture, striving for a complimentary unity of concreteness and abstraction. His work debuted in Shenzhen at a press conference on Monday.
Partly a realistic manifestation of our human ancestors and partly an untamed rendering of the sculptor's spiritual world, every viewpoint on the sculpture is different. The upper and leftward views of the piece represent the skull of an ape man and the bust of a mother, while its right-side view takes after a lion.
Interestingly, the overall shape of the sculpture was formed by knocking clay bumps randomly on the ground — a process that resembled how goddess Nyuwua created humans.
Born in Longchuan Township of Heyuan City, Guangdong Province, Zeng is the director of the porcelain research institute with the Hebei Academy of Fine Arts.