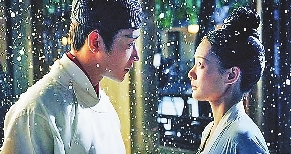 WHEN cast members gathered on the set of "Royal Nirvana," a TV series taking place in ancient China, most received a special "gift" — a pile of scripts dotted with rarely used Chinese characters.
At a promotional event held in the Communication University of China, actor Wang Yu recalled the moment, saying it reflected the difficulty of reading lines that included classical Chinese.
Adapted from a popular online novel by the same name, the 60-episode series chronicles the tough years of a crown prince, who witnessed the death of his mother and endured suspicion from his father. With the support of a smart young woman, the daughter of a government official, the protagonist realizes his ambition to build a stable and peaceful country.
Actor Luo Jin and actress Li Yitong play the two leading roles.
Although the story is set in a fictional dynasty, costume designers and etiquette consultants say they used items from the Song Dynasty (960-1279) and books by scholars like Shen Congwen and Meng Hui for research.
Domestically available on Youku, the streaming platform affiliated with e-commerce giant Alibaba, the series has also been streamed in more than 200 countries.
Major foreign streaming sites and broadcasters include YouTube, the North American video website ODC, Amazon's Prime Video, VNPT in Vietnam and Astro in Malaysia.
"Royal Nirvana" is the latest product in an effort to send Chinese productions overseas by Youku, which has exported more than 50 titles in the last two years, ranging from variety shows to animated series. One of the most successful dramas to win popularity overseas is "The Longest Day in Chang'an."
(Xinhua)