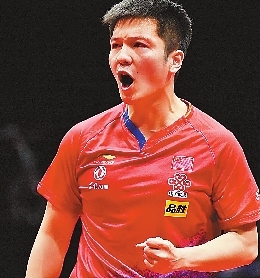 TABLE tennis world No. 1 Fan Zhendong ruled out a possible dramatic ending at the ITTF men's World Cup on Sunday, beating Japanese teenage sensation Harimoto Tomokazu 4-2 to lift the trophy.
It is the third time that Fan has been crowned at the annual major tournament, which is considered one of the top three events of the table tennis world alongside the Olympic Games and World Championships.
Facing a nothing-to-lose Harimoto, the surprising winner over Olympic champion Ma Long in the semifinals earlier Sunday, Fan was forced to play all out as the defending champion found himself throwing away a 7-4 lead to lose the first set 11-9.
Fan, 22, then made short work of his 16-year-old opponent, taking the second set 11-4, but found it far from easy as Harimoto pulled one set back 11-6 in the third set.
Fan thus played more long-driven attacks in the following sets and won three sets in a row, 11-8, 11-2, 11-7 to wrap up the victory. "It has been quite different from my first World Cup victory," Fan, who won the 2016 and 2018 World Cup before Sunday's triumph, told a post-match press conference.
"I realized that the situation has changed in the past three years. I'm no longer the surprise figure to the world's veteran players but the one to target for the younger generation."
(Xinhua)