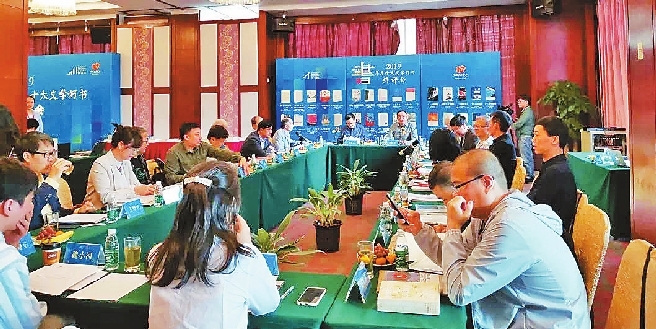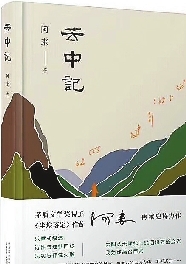 THE unveiling of the "Top 10 Good Books of the Year" list is a highlight of Shenzhen Reading Month. This year, aiming to introduce a new round of fine literary works of great humanistic value, 16 judges from all over China arrived in Shenzhen and engaged in heated discussions with six local judges over a shortlist of 30 books from Nov. 26 to 27.
Finally, they have named the top 10 books of the year, and through the votes of nearly 300 guests and readers, the most-recommended book of the year is also revealed.
The recommended book of the year is "Notes in the Clouds" by renowned Chinese contemporary writer Alai. It's a book that he has been brewing for 10 years and commemorates the 10th anniversary of the 2008 earthquake in Wenchuan, Sichuan Province. After the earthquake, villagers of the mythical Yunzhong Village with thousands of years of history emigrate to a plain. Many years have passed, and the village priest Abba feels that his strength is dissipating. He wants to return to the village that is about to disappear and accompany the undead. He and two horses embark on a journey back home, through which he sings praises to the village, soothes the dead and finds inner peace. However, from the beginning he knows that this land will suffer pain, and all its memories will soon be buried by a landslide.
The other nine awarded literary books, in no particular order, are:
'The Imperfect Life of T.S. Eliot' by
Lindel Gordon
This book examines the life of a great poet of the 20th century. The author cross-references Eliot's life with his works, excavating the poet's subtle emotional moments. Profound, delicate and complex, it can be called exemplary biographical writing.
'The Artisans of Hands: Chinese
Craftsmen' by Nan Xiang
Chinese craftsmanship is a significant part of Chinese traditional culture and embodies the outstanding talents of the artisans who perform it. The inheritors of various types of intangible cultural heritage items and practices are the epitome of the wisdom of thousands of years of Chinese work. The author conducts research for two years around China, including in-depth field surveys, and accumulates a wealth of first-hand information. The book records the stories of 15 craftsmen ranging from tea-makers to iron plate embossers to Chengdu lacquer art heirs.
'Imagine Uma Rosa do Futuro'/
'Imagine a Rose From the Future' by
Fernando Pessoa
This collection contains the famous poems "Tobacco Shop" and "Opium Smoker." This is the first Chinese translation of "Gompos," an image created by the author, hoping to provide an entryway into the vast world of Pessoa's writing.
'Hello, Anna' by Jiang Yun
A black sheepskin notebook that disappeared 40 years ago returns to the original owner, bringing with it the truth and forgiveness. As the mother of renowned youth literature author Di An, writer Jiang Yun, also the winner of Lu Xun Literature Award, dedicates this work to her mother. She walks into the depths of youth and human nature, telling the stories of previous generations.
'Star Book' by Cai Dong
This new collection of short stories includes eight tales about the pursuit of love and dreams, discovering one's inner abundance and the tenacity of ordinary people. Other themes include finding beauty and comfort and detecting a little bit of starlight in the ordinary with the effect of arousing courage and enthusiasm for life.
'Rain: A Natural and Cultural
History' by Cynthia Barnett
With curiosity and an obsession with rain, Cynthia Barnett, a well-known American science journalist, didn't hesitate to devote herself to four years of living with it. In this book Barnett will take readers through the barriers of time and space to witness the birth and evolution of rain on earth and see how our ancestors have gotten along with rain for millions of years. She also examines the admiration, praising and cursing of rain in mythology, literature and music, reflecting on climate change and its potential threat caused by human activities after the rise of modern civilization.
'Ten years in Ertiao' by Zhao Heng
In 200,000 words, the author describes living at the Dongsi Ertiao Hutong in Beijing from the 1950s to the 1960s. It gives life to the characters as well as social knowledge and Beijing customs with a deep human touch.
'Algorithm for Life' by Chen Qiufan
In the coming era of artificial intelligence, AI technology will no longer be a tool for human beings but will intertwine with human destiny. The development of science and technology stimulates the progress of a civilization and also subtly changes our cognitive structures and life course. The book features six novels, explains six concepts and seeks six futures. As a representative of sci-fi realism, Chen directly addresses the core anxieties and challenges that contemporary people face in the technological developments of the near and far future.
'Ema La Cautiva'/'Female Captive Emma' by César Aira
This is a classic masterpiece written by César Aira, a master of contemporary Latin American literature, who is seen as a heir to Argentine short-story writer Jorge Luis Borges.
Emma and a baby were captured and brought to the wild frontier of Argentina where they linger between soldiers and the Indians. Along the way, she sees a variety of ridiculous and interesting characters: an officer who wants to print money to build a currency kingdom, an Indian prince who is addicted to pleasure, and a mysterious princess. Year after year, Emma and her children walk through unfamiliar lands. How will they eventually find hope in life? How can a woman who has lost her freedom find a way to fight the world?
(Vincent Lin)