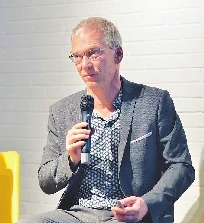 Cao Zhen
caozhen0806@126.com
ROLAND WETZEL, director of Museum Tinguely in Basel, Switzerland, gave a lecture on Swiss artist Jean Tinguely (1925-1991), his abstract mechanical installations and the museum named after the artist last week at OCT Art and Design Gallery's Master Talks event.
Intrigued by the effects mechanization and industrial innovation had on modern society in the 1950s, Tinguely devoted his entire career to exploring the concept of machines as sculptures. Although his mechanical contraptions are abstract, he invited viewers to interact with them, which made his artworks accessible, according to Wetzel.
Tinguely's earliest mechanical sculptures in the 1950s were simple kinetic reliefs made of wires and gears designed to hang on walls. Later, he integrated sounds and smell and a multitude of other functions and mechanized elements, such as motors, to make his works multi-sensory and interactive. He was fascinated by how machines work, the noises they make and their intrinsic poetry. His abstract artworks mocked the "improvements" of the industrial revolution and modern reliance on technology and evoked reactions from viewers.
"Tinguely's works are humorous and earnest, develop empathy and encourage a broader audience to play a role," said Wetzel.
Museum Tinguely, opened in 1996, is dedicated to the life and work of the prolific artist. Situated beside the Rhine, the museum houses the greatest collection of Tinguely's works spanning four decades, as well as artworks by his wives Eva Aeppli and Niki de Saint Phalle. A park next to the museum also displays sculptures.
Since most of Tinguely's works are interactive machines, Wetzel said they apply different maintenance methods to each of Tinguely's works. For example, his early fragile works run by thin wires are not on display; rather, videos of these works are shown. Some works can be played with for an interval of five to 10 minutes. There are also back-up components for the machine-sculptures.
Wetzel also shared his ideas on how to keep Museum Tinguely an exciting place in Basel, such as holding special events for the disabled and organizing concerts, educational programs, public guided tours and workshops.