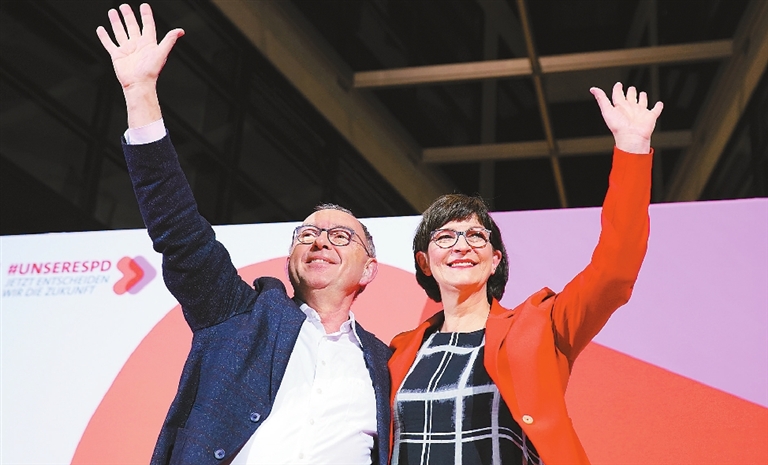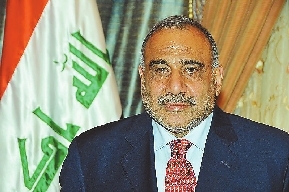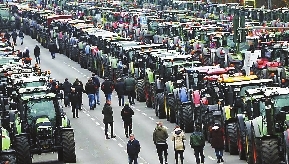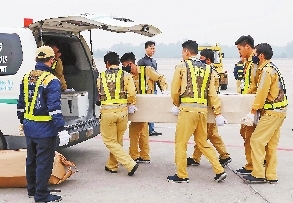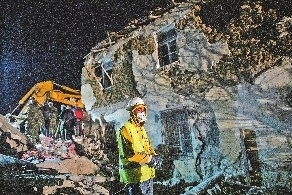 Merkel's future in doubt after SPD leadership change
Saskia Esken (R) and Norbert Walter-Borjans gesture after being announced as winners of a Social Democratic Party (SPD) members' ballot for leadership in Berlin, Germany, on Saturday. The future of Germany's ruling coalition — and by extension the chancellorship of Angela Merkel — is uncertain after the election of the new leaders.
Iraqi PM submits resignation amid more violence
Three anti-government protesters were shot dead and at least 58 others wounded in Baghdad and southern Iraq on Saturday, security and medical officials said, as Prime Minister Adel Abdul-Mahdi formally submitted his resignation to parliament.
The prime minister announced on Friday he would hand parliament his resignation amid mounting pressure from mass anti-government protests, a day after more than 40 demonstrators were killed by security forces in Baghdad and southern Iraq. The announcement also came after Iraq's top Shiite cleric withdrew his support for the government in a weekly sermon.
Thousands of farmers in tractor protest in Berlin
Thousands of farmers drove their tractors to Berlin's famed Brandenburg Gate on November 26 in a mass protest against new environmental regulations they say threaten their livelihoods.
Long convoys* brought traffic to a standstill* in the heart of the city's government district, in the biggest display yet of farmers' anger over agricultural policy changes agreed by Chancellor Angela Merkel's Cabinet in September.
"First the plants starve, then the farmers, then you," read one sign attached to a green tractor.
Vietnam receives remains of trafficking victims
The last remains of the 39 Vietnamese who died while being smuggled in a truck to England last month were repatriated* to their home country on Saturday.
Photos by the official Vietnam News Agency showed the arrival at the Hanoi airport of 16 bodies and seven urns*, which had been flown from London.
They were loaded into ambulances on a foggy morning for a trip to their hometowns in several provinces in northern and central Vietnam.
Albania quake death toll climbs
Rescue crews with excavators searched for survivors trapped in toppled apartment buildings and hotels on November 26 as the death toll from a powerful predawn earthquake in Albania climbed to 21, with more than 600 people injured.
The magnitude-6.4 quake was felt across the southern Balkans and was followed by multiple aftershocks, with several above magnitude 5.
Stories of London Bridge attack heroes emerge
A day after two people were killed in a terror-related stabbing attack on a bridge in central London, reports emerged of the brave actions taken by members of the public to detain the alleged assailant before he was shot dead by British police.
Scotland Yard identified the suspect as Usman Khan, 28, an extremist previously jailed for plotting to bomb the London Stock Exchange, Britain's Parliament and the U.S. Embassy. After serving prison time for his role in that plot, Khan was released in 2018.(SD-Agencies)SD-Agencies