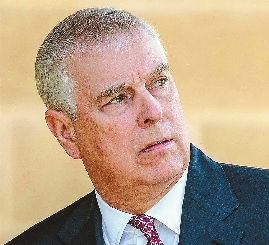 U.K. Prince Andrew was missing when his mother, Queen Elizabeth II, hosted NATO leaders at Buckingham Palace on Tuesday evening, but he was the focus of renewed scrutiny as allegations of sexual misconduct received wide attention on British TV.
Andrew, who has stepped down from royal duties because of his involvement with sex offender Jeffrey Epstein, was the subject of a BBC documentary broadcast Monday night in which he was accused of having sex with 17-year-old American Virginia Roberts Giuffre trafficked by Epstein.
Giuffre, now 35, told the BBC in vivid detail how she was forced to have sex with Andrew in London in 2001 after a night on the town at the exclusive Tramp nightclub. She said she had been recruited into Epstein's sex-trafficking network earlier when she was working as a locker room attendant at Trump's Mar-a-Lago club.
Andrew has denied having sex with Giuffre and says he doesn't have any recollection of meeting her — despite a photo that appears to show him with his arm around her waist.
Andrew, 59, has apologized for his association with Epstein, who died in prison in August in what New York City officials ruled was a suicide. He was facing sex-trafficking charges after earlier serving time for other sex offences.
The disgraced prince says he is willing to cooperate with appropriate law enforcement inquiries if required to do so. He also faces possible subpoenas from women who are suing Epstein's estate who believe Andrew may have valuable testimony about abuse they suffered.
(SD-Agencies)