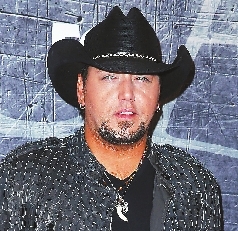 Vegas concert
JASON ALDEAN returned to Las Vegas to perform a concert Friday night. It's the first time Aldean has been back for a full concert since the Oct. 1, 2017 mass shooting in which 58 people were killed and over 800 others were injured when a gunman opened fire from a nearby hotel window.
In 2017, Aldean was onstage when the shooting started. He was only two songs into his 90-minute set for the Route 91 Harvest Festival when he and his band left the stage and took cover. Since the massacre, Aldean has had a special relationship with Sin City. He has returned to attend awards shows and visit the hospitals where the victims were recovering.
Apology
JUSTIN TIMBERLAKE has apologized to his wife Jessica Biel and their 4-year-old son Silas after photos and video surfaced last month showing him holding hands with actress Alisha Wainwright, his co-star in the upcoming movie "Palmer," at a bar in New Orleans.
"I stay away from gossip as much as I can, but for my family I feel it is important to address recent rumors that are hurting the people I love," Timberlake wrote. "A few weeks ago I displayed a strong lapse in judgement — but let me be clear — nothing happened between me and my co-star. I drank way too much that night and I regret my behavior. I should have known better."
"This is not the example I want to set for my son," the "Mirrors" singer wrote.
Drunk-driving
NEW Mexico Police have completed the investigation into the fatal car crash that killed singer Kylie Rae Harris and 16-year-old Maria Elena Cruz in September.
The Taos County Sheriff's Office confirmed in a press release Thursday that Harris, 30, was drunk behind the wheel and driving at incredibly high speeds before her vehicle collided with two others Sept. 4.
Harris was traveling south on State Road 522 in a black Chevrolet Equinox when she struck a black Chevrolet Avalanche from behind. The collision initially sent Harris' vehicle into the northbound traffic lane, where she then collided head-on with Cruz's white 2008 Jeep, which was traveling north on SR 522 at the time. The impact of the crash was the cause of death for both Harris and Cruz.(SD-Agencies)