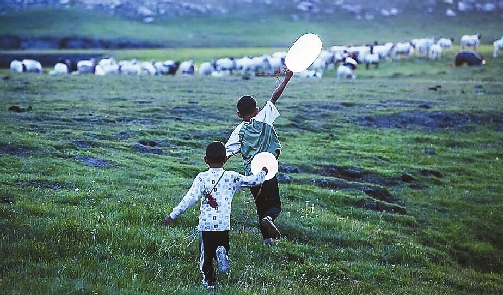 "BALLOON," the latest feature by Tibetan novelist and filmmaker Pema Tseden, won the best picture award at the Second Hainan International Film Festival that concluded Sunday.
The film which was screened in the Horizons section at the 76th Venice International Film Festival earlier this year also won actress Sonam Wangmo an acting award.
The story follows a family living alone on the vast plateau surrounded by their prized sheep. The film is richly layered and a bit exotic and hard to follow for those not quite acquainted with the Tibetan traditions. On the other hand, its loose structure works as a rich tapestry that mimics the experience of reading a novel. The film's title refers to two of the last condoms the family's two mischievous sons have found in their parents' stash and use like balloons for playing with each other.
The best director award went to Chinese filmmaker Lina Wang for her intimate and affecting debut feature "A First Farewell," which depicts the daily worries of rural life in northwestern Xinjiang, the director's hometown. This Uighur-language coming-of-age story premiered at the Tokyo International Film Festival, winning the event's Asian Future competition.
Tunisian director-writer Mehdi M. Barsaoui took home the best screenwriter award for his intense family drama "A Son," which stars French-Tunisian actor Sami Bouajila as a man whose son has been gunned down by terrorists. Bouajila, who was best actor in Cannes in 2006, shared the best actor award with Japanese actor Ryuhei Matsuda for his performance in "Beneath the Shadow."
"Fire Will Come," an internationally co-produced Galician-language drama directed by Oliver Laxe, repeated its win in Cannes and walked away with a special jury prize.
Other Golden Coconut Award winners include "White Snake" (best artistic contribution, a technical award), "1982" (best children's picture), "About Love" (best documentary) and "The Size of Things" (best short film).
Held on the tropical resort island known as "China's Hawaii," this year's Hainan festival featured appearances by Ethan Hawke and Asghar Farhadi, along with an all-new competition section judged by a jury led by French actress Isabelle Huppert.
More than 200 movies were shown during the weeklong event, first launched in December last year.(Debra Li)