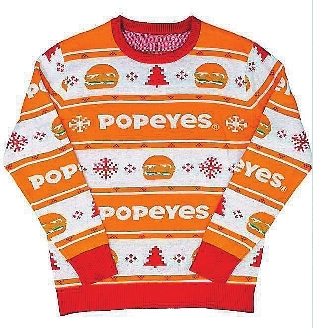 POPEYES is the latest brand to release an ugly Christmas sweater for the holiday season — and it's no surprise that theirs is spotlighting their headline-making chicken sandwich.
The fast food brand has teamed up with UglyChristmasSweater.com on the limited-edition apparel, which features the restaurant name, snowflakes and trees and fried chicken sandwiches.
The sweater is available to buy for US$44.95.
The brand promises that the sweater is the "ultimate ice breaker for any holiday party" and a "festive look sure to make mouths water."
It's orange and white, and comes in unisex sizes small to 3XL.
While the snowflake and Christmas tree print make it festive, it's the little chicken sandwiches that really make it stand out.
The brand is not the only food company that has released a range of gimmicky Christmas products — in fact, a whole bunch are getting in on the festive fun.
Red Lobster also debuted a holiday collection this season, made up of T-shirts, a tumbler, and a very festive sweater covered with a pattern of biscuits, shrimp, lobsters and snowflakes.
But most show-stopping are the US$39.99 holiday sweaters, which have a special insulated pocket for carrying around Cheddar Bay Biscuits and keeping them warm.
Taco Bell has released an entire line of holiday items, including three adult-size onesies inspired by their sauces bot — which have already sold out.
The brand is also offering up a Taco Bell snow globe, snow globe-print pajamas and several tees and sweaters.
They have socks, mugs, tumblers, greeting cards, cookie cutters, blankets, throw pillows and even a gold-colored Taco Bell necklace.
The really Chrsitmasy items include sold-out tree ornaments and an inflated 6-foot Taco Bell Fire Sauce Packet that costs a whopping US$200.
Also this month, Andre Champagne teamed up with Tipsy Elves on a limited-edition Andre x Tipsy Elves collection, which includes ugly Christmas sweaters for men and women with a special built-in pocket for champagne.
The sweaters, which are US$64.95 each, have a yellow and white design with a large golden Christmas stocking sewn on the front — which opens up to perfectly hold booze.
While the wearer can't drink directly from the sweater, they can use the pocket for carrying a full bottle and keeping it handy at all times.
The holiday collection also includes onesies and a fanny pack (which can hold a can of champagne in a special pocket).
Meanwhile, Busch Beer has released the Buschhhhh Cooler Stocking, an exceptionally long insulated stocking that can fit a 12-pack worth of beer and keep it cold for up to four hours.
Other brands to release funny ugly Christmas sweaters this year include Oreo, McDonald's and White Castle.
(SD-Agencies)