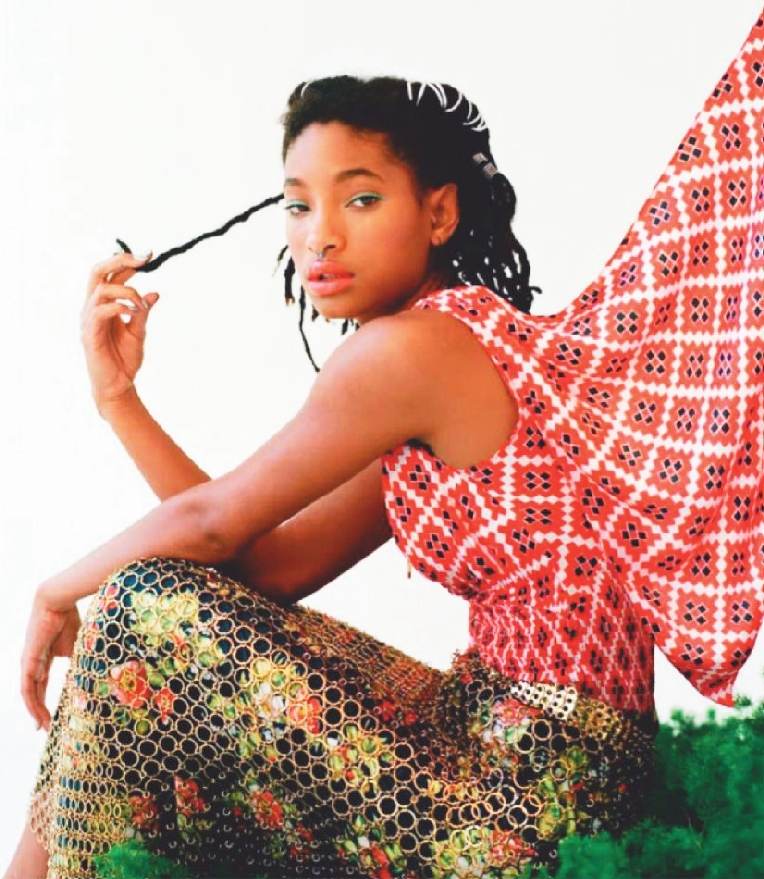 维罗·史密斯: 冉冉升起的星二代
Anyone in the Smith family is apparently destined for greatness, including Will and Jada Pinket Smith's daughter, Willow Smith.
The R&B singer-songwriter blew up with her debut single "Whip My Hair," which was released in 2010. Fast forward to 2019, the 18-year-old has finally unleashed her third studio album, "WILLOW." The project arrives a few weeks after her brother Jaden Smith's "ERYS." Aside from the quality in her sound and lyrics, it's her eccentric, care-free energy and aura that fans can't help but gravitate toward.
Smith, like any normal teenager, has experienced her fair share of ups and downs.
At the age of 10, after she shot to fame because of her hit debut song, she struggled with all of the attention and expectations she placed upon herself and began to cut herself as a young teen.
"I was super young, and I had a dream, but all I really wanted to do was sing and I didn't equate that with all the business and the stress that ended up coming with it," Smith, now 18, told People magazine in an interview published in July. "I was just like, 'Whoa, this is not the life that I want.'"
Smith's way to rebel was to shave her head in 2012. But then she began cutting, which she had said, provided "a physical release of all the intangible pain that's happening in your heart and in your mind."
She only stopped after she educated herself in science and spirituality.
"I was like, 'This is pointless — my body is a temple,' and I completely stopped. It seemed literally psychotic after a certain point because I had learned to see myself as worthy," she revealed.
Smith's mother didn't know about her cutting until she spoke about it on their Facebook Watch TV series, "Red Table Talk." Pinkett Smith said she was "shocked" to learn about it but "so proud of her in that moment."
Smith lived a life of isolation and removed herself from the public for a while. She leaned on her family's support and realized that music was the only outlet that gave her freedom from a dark mental state.
Through her music, Smith has gained a greater perspective on the world and her place in it. She spoke in an interview with Apple Music on how she was able to change her mindset and find meaning in life.
"Everyone is looking at you to be a role model and to use your platform to do something good and positive. That's just too important to just be like, whatever, I'm just going to be sad and depressed. That doesn't make any sense. No, if you have this platform and people listen to you. Be vulnerable. Say something important. People are feeling the way that you're feeling. Don't just sit in the shadows and be alone. Let people know they are not alone."
Smith has always been a force that influences and reflects the youth today. Thanks to her efforts, she is now a singer, songwriter, record producer, actress, and dancer. Since making her acting legend alongside her father in "I Am Legend," she's appeared in numerous films and TV shows, including "Adventure Time" (2018) and "Merry Madagascar" (2009).
She currently hosts the web television talk show "Red Table Talk" alongside her mother and Adrienne Banfield-Norris. She's currently worth an estimated US$4 million.
(SD-Agencies)