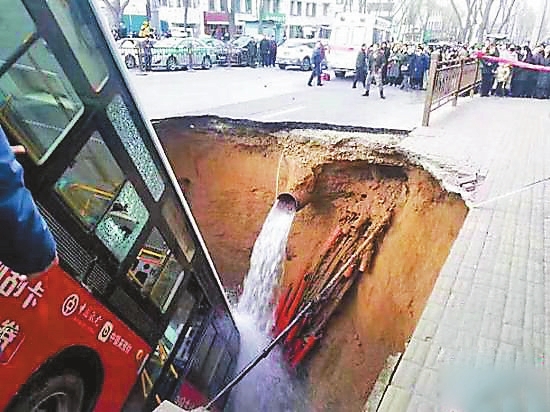 BODIES of six victims have been found and retrieved while searching for the other four missing is under way after a road collapse that occurred Monday in Northwest China's Qinghai Province, local authorities said yesterday.
Another 16 people have been hospitalized, said Zuo Xisheng with the emergency management bureau of Xining, the provincial capital. All the injured are in stable condition.
The accident happened at around 5:30 p.m., when a road section collapsed on Nandajie Street in Xining and a public bus fell into the hole.
Footage of the incident circulating online indicates that the collapse was followed by an explosion and heavy smoke from inside the hole. It was not clear how many people were on the bus.
Sixteen people injured in the incident were in a stable condition in a hospital.
Among the injured was a boy who pushed a child out of danger before going to the aid of others and then falling into the hole as the cave-in expanded, Shanghai-based news service Thepaper.cn quoted a municipal employee as saying.
The sinkhole measured around 80 square meters. The bus had been lifted out of the hole by yesterday morning.
Over 1,000 rescuers and 30 vehicles were sent to the site.
The municipal government said yesterday morning that authorities were trying to identify the six bodies recovered from the site. The cause of the accident is being investigated.
In July last year, a woman died after she and her husband were swallowed by a sinkhole in a road in Tangshan, Hebei Province.
And in October 2018, a road collapsed in Dazhou, Sichuan Province, killing four people.
(SD-Xinhua)