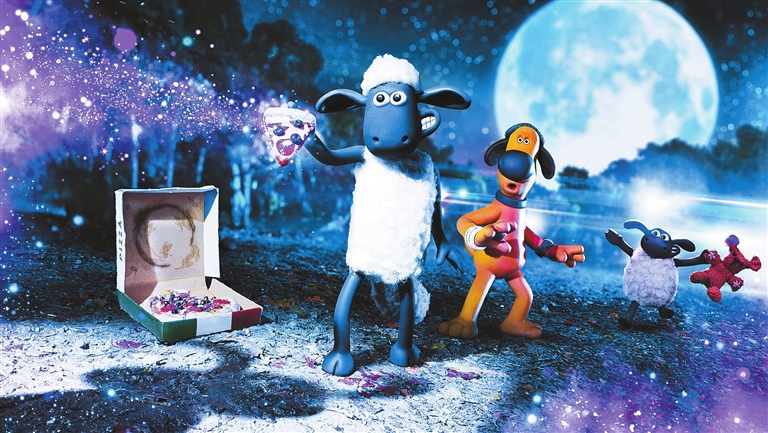 Four years ago, animation powerhouse Aardman successfully turned its TV series "Shaun the Sheep" into a full-length dialogue-free animation for children which was delightful enough to also win over parents.
The mischievous Shaun, with his bendy black limbs and stretchy mouth which sticks out of the side of his head, defied expectations to become a global super-sheep with an Oscar nomination and over US$100 million of cinema tickets sold.
With a change of directors, the kings of claymation have just about repeated the same feat with the sequel, "Farmageddon," although they're cycling even further down the demographic with the introduction of a purplish-pink blobby plasticine alien called Lu-La who has sparkly ears and not-always-endearing Tellytubbie ways about her. Parents may sense a merchandising proposition, but Aardman can still count on the wayward sheep and their canine nemesis Bitzer to deliver another winner for the studio and its international partners.
Again, there's no dialogue for children to follow as a spaceship accidentally lands near Mossy Bottom farm and everyone becomes involved in a rainbow-colored extra-terrestrial drama. Shaun the Sheep finds Lu-La, the baby escapee alien, and attempts to return her home as the hapless Bitzer tries to stop Shaun and his flock with the usual limited success.
Meanwhile, The Farmer, obsessed with the idea of buying a snazzy new combine harvester, decides to cash in on the alien arrival by opening a theme park called Farmageddon. And Agent Red and her ingeniously Hazmat-suited gang of goons want to get their hands on Lu-La.
Aardman pays generous tribute to Spielberg's "ET" and "Close Encounters of the Third Kind" here, as well as dozens of other beloved films and TV series in the genre, from "The X-Files" and "Doctor Who" to an homage to "2001: A Space Odyssey."
But at its heart, "Farmageddon" is a story about fellowship and fitting in, told with an emotional clarity and eloquence that feels like a new high watermark for the British animation studio. Close-ups overflow with often heartbreaking expressive detail, while the scenery's proudly handcrafted look makes every wide shot feel like a feat of ingenuity.(SD-Agencies)