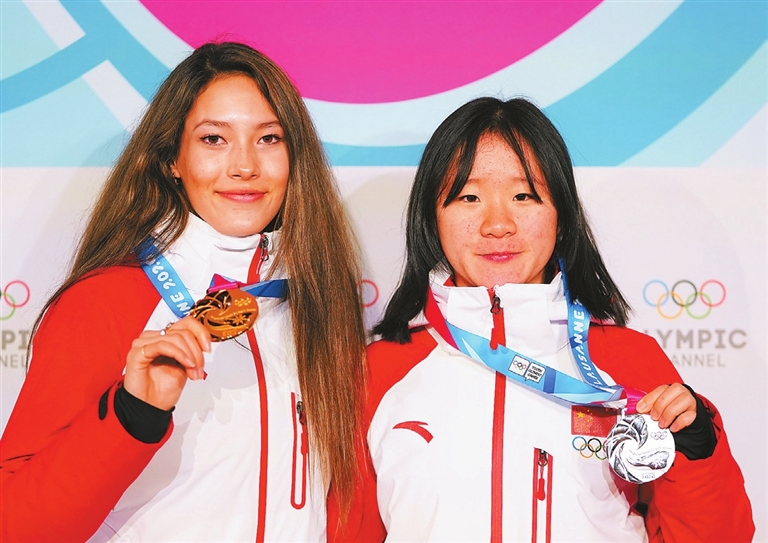 CHINA'S Gu Ailing grabbed gold in the women's halfpipe event at the Winter Youth Olympic Games in Lausanne, Switzerland, on Monday.
The Chinese youngster secured the win with her second run in the women's halfpipe finals, setting the event's highest score of 93 points.
Gu's compatriot Li Fanghui ensured a one-two finish for China with 85.66 points, with the United States' Hanna Faulhaber taking third place with 77.33 points.
Having already secured the gold medal before her final run, Gu then selected to focus on landing tricks with higher difficulties, and still scored 90 even after a small mistake.
Known as a slopestyle expert, Gu admitted she rarely practices halfpipe. "The [halfpipe] venues are hard to find, so I always do 'match practice.'"
The champion said she developed new tricks only last week while training at Chongli's Secret Garden resort, which was her only training opportunity during the previous year.
"I performed those tricks neat and nice today. Every time I am in competitions, I can master several new skills," she said.
"I think the most important thing is to be yourself. When you perform your best, medals and results will come. So, to me, the most important thing is to finish my maneuvers well and do my best. Everybody in this contest will keep improving and try to do better in their own style. They'll always keep learning. I'm really happy with my performance these days," said Gu.
Meanwhile, second-placed Li said she had showed improvement in Monday's event, finishing her first and second runs cleanly while endeavoring to increase her jumping height.
The silver medalist tumbled in her third run, but had already guaranteed second place beforehand.
"The result was good, but I still need to improve my landing stability," said Li.
At the mix-start (with freestyle skiing) snowboard halfpipe event, Japan's Mitsuki Ono and Manon Kaji took gold and silver, respectively.
On day 11 of the Winter Youth Olympics, in the men's 500m short track speed skating final, China's Zhang Tianyi started from the best position after topping the preliminaries with a time of 40.908 seconds.
The 15-year-old led the first few laps but was overtaken by South Korea's Lee Jeong-min and Jang Sung-woo later on.
Zhang tried to come back but fell, finishing third in 48.570 seconds with Lee and Jang claiming gold and silver, respectively.
(SD-Agencies)