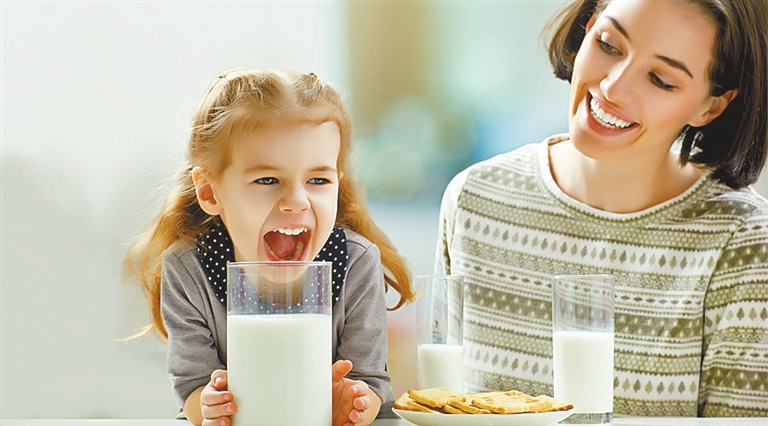 MILK has had a bad rap in recent years. A rise in veganism and concerns around intolerance to the creamy white drink has seen a surge in popularity of milk alternatives, and multiple myths still surround the drink, including beliefs that it worsens the symptoms of a cold.
But when it comes to kids, cow's milk is a must-have— and always in its fattiest form, experts say.
Milk is a good source of calcium, iodine, vitamins A and B12, and fat — and it's the fat that helps children meet their energy requirements, says Lucy Upton, a specialist pediatric dietician and spokesperson for the Association of U.K. Dieticians.
"Fat is very important in children," says Upton. "They have very high energy requirements."
The three key energy sources for kids are dairy, protein and carbohydrates, and kids need significantly more energy per kilo than adults. "The average two-year-old needs 80 calories per kilogram of weight," she says, highlighting that adults need less than half that amount.
A recent study also found that kids who drank full-fat milk were less likely to be obese than those who drank the low-fat kind, although that insight was solely observational.
So why deprive them of the good stuff when they've got so much energy to consume?
Don't, experts advise, unless intolerance or allergy is a genuine issue -- something that occurs in 2 to 7 percent of children, Upton says.
You may not have heard of toddler milk, but today it's a widely available product targeting children aged 12 months to three years, marketed as a follow-up drink to baby formula.
Health and nutrition experts have long advised against toddler milks because of their added sugar and salt and lower protein than ordinary cow's milk, which was recently reiterated in a consensus statement released by key U.S. health and nutrition organizations.
The advice is clear: The next stop after 12 months of breastfeeding is natural, whole milk for children, and those ages 12 to 24 months should have two to three cups of whole milk daily. "We don't recommend skimmed milk [for] children," says Upton, particularly in children under the age of five. Even in older kids, it would very much be on an individual basis, she adds.
Simon Steenson, a nutrition scientist at the British Nutrition Foundation, agrees, noting that "children who are eating well can be given semi-skimmed milk after 2 years, but skimmed or 1 percent milk is not suitable as a drink for children under 5," he says.
And it shouldn't affect their weight. Canadian researchers found that kids between the ages of one and 18 who consumed whole milk were less likely to be obese.
In fact, the odds of them being obese were 39 percent lower than kids who drank reduced-fat milk.
The team analyzed 14 studies that included 20,897 children, comparing children who drank whole milk (3.25 percent fat) with ones who drank reduced-fat milk.
The kids drinking the full-fat milk were not heavier, explains Jonathon Maguire, an associate professor of pediatrics at the University of Toronto, who led the study.(SD-Agencies)