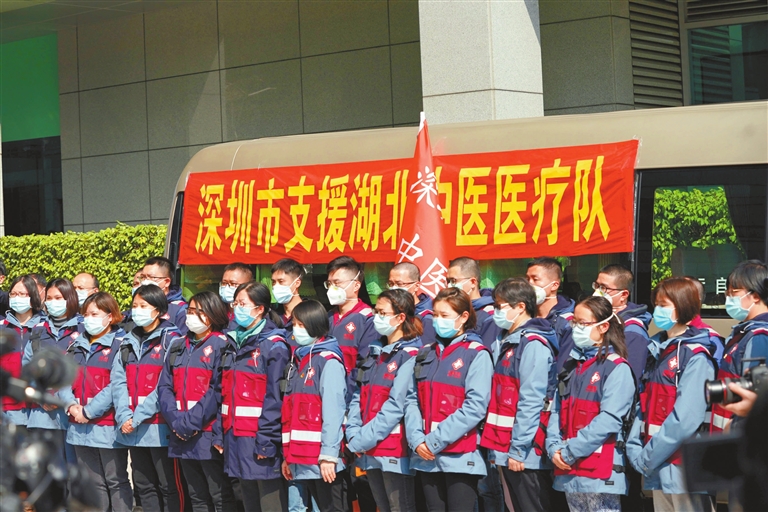 Wang Jingli
wangjingli0715@163.com
A TEAM of 25 traditional Chinese medicine (TCM) doctors from Shenzhen set off yesterday afternoon to Wuhan, the epicenter of COVID-19, to assist in treating patients at the makeshift Leishenshan Hospital.
This is said to be the city's third batch of medical members as well as the city's first TCM team dispatched to Wuhan to aid the virus fight.
These 25 medical personnel are from the major departments, including intensive care, respiratory medicine, emergency medicine and nursing, of five hospitals, namely Shenzhen TCM Hospital, Shenzhen Hospital of Guangzhou University of Chinese Medicine, Luohu District TCM Hospital, Bao'an District TCM Hospital and Shenzhen Hospital (Longgang) of Beijing University of Chinese Medicine.
The eldest medic on the team is 45 years old and the youngest 26.
They are joined by another 35 medical members from the Guangdong TCM system to form the fourth national medical team of TCM to help treat patients in Wuhan.
Shenzhen Mayor Chen Rugui and Vice Mayor Wu Yihuan saw the medical team off.
Liu Yuxiang, leader of the team and who participated in the fight against the severe acute respiratory syndrome (SARS) epidemic in 2003, said that she hopes to bring valuable TCM experience to Wuhan and help patients there recover soon.
TCM combined with Western medicine has recently been confirmed as playing an active role in treating patients with the novel coronavirus pneumonia by several leading experts in China.
Another 35 TCM workers set off from Guangzhou yesterday morning.
Xu Qingfeng, deputy director of the Guangdong Provincial Health Commission, said that responding to the Central Government's call to support Hubei's coronavirus battle reflected doctors' heroic spirit and resolve to save people's lives, while seeing the team off yesterday.
Xu also reminded workers to practice self-care while working at the frontline.
As of yesterday, a total of 2,101 medical personnel from Guangdong had been sent to aid Wuhan in the virus fight, including 55 from Shenzhen and over 300 TCM workers.
Meanwhile, two helicopters carrying respirators, protective gear and other materials, operated by Heli-Eastern, took off from Shenzhen at 9 a.m. yesterday, heading to Wuhan Central Hospital.
This is the first time that Shenzhen has used helicopters to deliver materials to Wuhan, according to DT News, an app operated by Shenzhen Special Zone Daily.
Local Daily Report
As of 12 p.m. yesterday
Total: 415
Recovered: 152
Death toll: 2