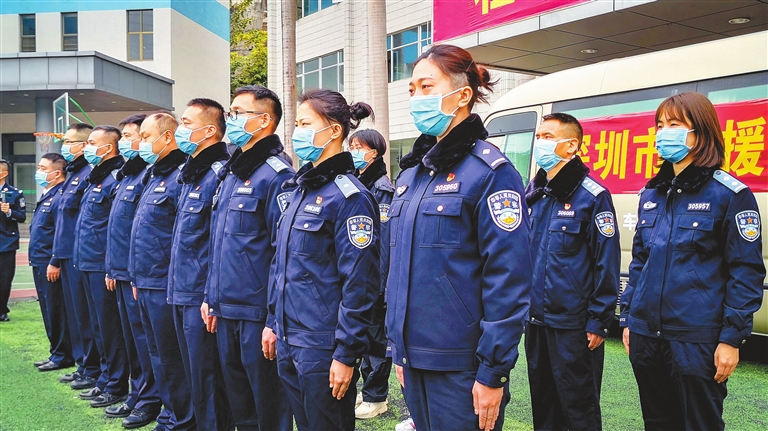 Zhang Yu
JeniZhang13@163.com
SHENZHEN has dispatched a second batch of 17 medical workers to help combat the novel coronavirus pneumonia epidemic in Jingzhou City, Hubei Province, according to the city's health commission.
The medical team that set off to Jingzhou on Thursday morning was the fourth medical team Shenzhen has mustered to head for the epidemic-stricken Hubei Province.
The team comprising 17 members comes from Shenzhen General Station of Exit and Entry Frontier Inspection Hospital, including a health-care administrator, seven doctors and nine nurses with expertise in intensive care, respiratory diseases and nursing.
Lu Tao, deputy head of the hospital, was assigned to lead the medical team.
Lu, a Hubei native himself, said Jingzhou was where he had undertaken his medical internship.
"I was informed I would go to Jingzhou at 10 p.m. Wednesday. I also learned that materials in Jingzhou are still in short supply, so we have focused on preparing the materials before departure," Lu was quoted as saying. He had participated in the fight against SARS, or severe acute respiratory syndrome, in 2003.
Like Lu, He Fang, a senior critical-care nurse, is also experienced in coping with infectious diseases such as SARS and H1N1.
According to He, she served as the head nurse of an isolation ward during the H1N1 flu epidemic and was herself isolated with the patients. Apart from cooking food and offering treatment, she also gave them psychological counseling.
So far, Shenzhen has sent four medical teams consisting of a total of 72 medical workers to Hubei, 34 of whom are dispatched to Jingzhou, said the commission.
The team from the Peking University Shenzhen Hospital was the first Shenzhen medical team that left for Jingzhou, which departed Feb. 14.
Two other medical teams, including a team of traditional Chinese medicine workers, set out for Hubei on Feb. 9 and Monday.
Local Daily Report
By press time
Total: 416
New: 0
Recovered: 199
Death toll: 2