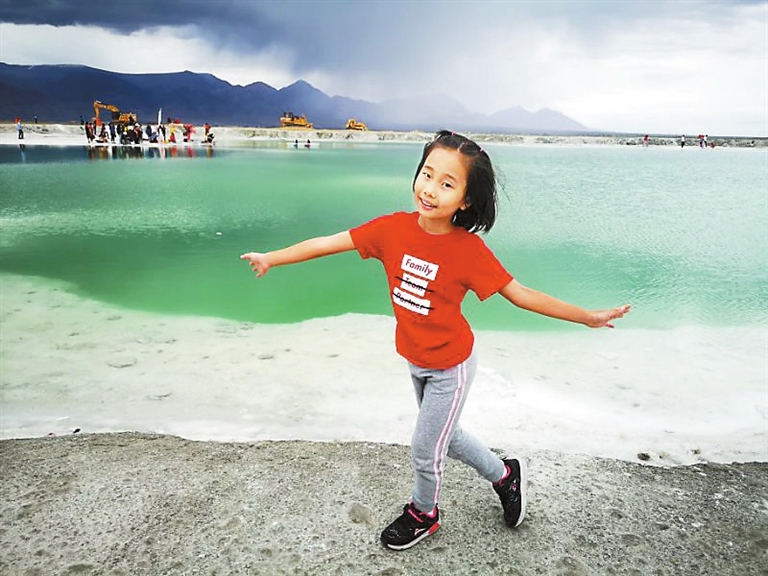 Wang Haolan
Holly_cn@163.com
ON seeing video footage in which people walk shoulder to shoulder without wearing masks at a bazaar in Jiangxi Province on Feb. 21, Zou Zhiyan, a Grade 1 student at Shenzhen Experimental Primary School, decided to urge her family members and friends to stay at home for their safety as the COVID-19 epidemic was still not eradicated nationwide.
"My daughter was worried upon seeing the footage and asked me why people took off their masks to hang out as medics were still working in their protective suits. She wanted to tell her grandparents, her best friends in Shenzhen, and all her acquaintances not to go outdoors. So, I suggested she make a video about this instead of calling them one by one," said the girl's mother surnamed Zhou, who graduated from Central China Normal University and is currently an English teacher.
Entitled "We Are All Little Fighters," the video starts with the family's canceled Spring Festival trip to Hunan Province due to the COVID-19 outbreak in late January.
Zou explained her anxiety from a kid's perspective and introduced the disease by comparing the virus with a rubber ball that has an uneven, sticky surface.
At the end of the video, Zou elaborated on one of her major intentions: How to be happy when quarantined at home. She encouraged her peers to spend quality time with their family and to work out at home instead of hanging out outdoors. "We are fighters, too. One day, everything will be all right!" The girl voiced out her sincere wishes in the epilogue.
On Feb. 21, the official Shenzhen Daily WeChat account published the bilingual "We Are All Fighters" video. The video has been viewed over 200 million times at home and abroad so far and was listed as one of the most-searched hashtags on China's Twitter-like Weibo. Acquaintances of the mother-daughter team were greatly motivated and inspired by the video.
"I told my daughter to think about what she could do for everyone as a small fighter, and she gave her answers in the video," said Zhou.
Zhou and Zou's English teachers helped the girl write the bilingual script. Zhou's husband was responsible for recording and editing. Zou chose pictures and background music for the video herself.
"She shows a hint of perfectionism sometimes, as she would review her recordings and ask to redo those that didn't meet her requirements. She also got idle at times. Therefore, I encouraged her through telling the story of whistleblower doctor Li Wenliang and reminded her of those unmasked pedestrians spotted in our neighborhood," said Zhou.
The video has won kudos from Zou's teachers, schoolmates and her mother's alumni after debuting online yesterday.