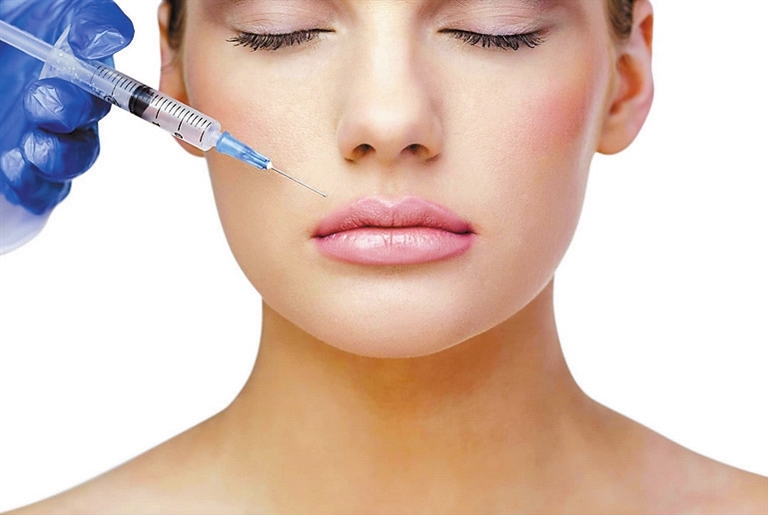 WITH approximately 45 million Google results for "hyaluronic acid skin care," even the most casual beauty enthusiasts consider themselves experts on the ingredient. They can rattle off its basic benefits: It plumps! It fills fine lines! It's bouncy! They're aware that hyaluronic acid occurs naturally in the skin and attracts 1,000 times its weight in water (it's hydrating).
That information is technically true, but as is often the case with a 500-word article, or a 30-second commercial, or a 280-character Tweet, it barely scratches the supposedly-dewy surface of hyaluronic acid.
Hyaluronic acid is lots of things. It's a glycosaminoglycan — known as a GAG — found in the extracellular matrix of almost every cell in your body. Basically, it's a sugary carb. "Hyaluronic acid" or "HA" is used as an umbrella term for any and all types: natural, topical, injectable.
The kind your body naturally produces is a humectant, a healer and a protector. It controls the water content of the skin — where half the water in your body resides — making skin appear youthful and firm and protecting cells from premature aging. (HA is also found in the eyes and joints.) "You can kind of think of it like a sponge, it soaks up water wherever it is," says Aimee Paik, M.D., a board-certified dermatologist in the United States. And yes, the body's own HA can apparently hold anywhere from 1,000 to 6,000 times its weight in water — but it can only get that water if you drink it or eat water-rich foods.
The majority of the skin's HA is concentrated in the dermis (the lower layer of the skin), with less in the epidermis (the upper layer of skin), and even less in the stratum corneum (the skin barrier). In fact, hyaluronic acid is only abundant on the skin's surface in the event of a wound-healing response. "Say you get cut, hyaluronic acid comes and sets off an inflammatory cascade that sends immune cells into the wound that allow repair to occur," the dermatologist explains. "In its native form, it's a big molecule, and it's actually anti-inflammatory." In other words, HA swoops in to save your skin.
All that hydrating, healing, protecting, and plumping sounds lovely. It only makes sense that you would want to add more of it. Sadly, that's not how skin care works.
Think of it this way: You can't replenish lost collagen stores by pushing collagen into your face or fortify weak bones with a bit of calcium cream. It's the same with HA.
Why? For one, hyaluronic acid has a "high molecular weight" in its natural state, making it too large to actually sink into the skin. Cosmetic chemists often hydrolyze or fragment lab-created HA into "low molecular weight" particles to aid in penetration, but these smaller versions can't make it past the epidermis, either. "This is why we have the world of injectable hyaluronic acid fillers," says Dr. Greg Altman, a cosmetic chemist.
Two, the hyaluronic acid in skin care is not the same as the hyaluronic acid that naturally occurs in your body.
The bodily substance is concentrated in the lower layers of the skin; the skin care ingredient sits on top. The bodily substance has a high molecular weight; the skin care ingredient often has a low or very low molecular weight. The bodily substance sources water from your diet; there appears to be no hard data on where the skin care ingredient sources water from — it could be the atmosphere, it could be from within your skin, topical HA could even be stealing water from your body's own hyaluronic acid molecules. The bodily substance is thought to bind 1,000 times its weight in water; there don't seem to be any available studies that show the skin care ingredient attracts that amount.
These marked differences don't necessarily make it a bad ingredient--hyaluronic acid may have value as a humectant, if not as a behavioral match for your own HA.
More and more people, however, are reporting adverse reactions to hyaluronic acid.
One-star reviews of popular HA serums point to extreme irritation, beauty brands have issued usage warnings for their HA-laced products, one medical-grade HA ointment advises patients that "prolonged use may give rise to sensitization phenomena," and hyaluronic acid injectables are increasingly associated with late-onset inflammation.
It's widely reported that topical hyaluronic acid grabs moisture from the atmosphere and draws it into your skin, but there appears to be no research that proves HA sources water from the environment. "There's really not a lot of water in the air, even if you lived in a steam room," Wendy Ouriel, says a cellular biologist. Finding the atmosphere lacking, "hyaluronic acid is going to pull directly from which it's attached," Ouriel says: your skin.
HA will theoretically resort to slurping up the moisture that sits within your skin — and within your own hyaluronic acid stores — and pulling it to the surface. This will temporarily make the skin appear hydrated and smooth, but moisture on the surface evaporates, thereby dehydrating the skin.
"You know when your lips are really chapped and you lick your lips and it feels better for a second, but then 10 minutes later, it's drier? It's the same thing," Ouriel offers.
There is actually a better option: Boost your body's own supply of HA.
The main way to make more hyaluronic acid is to increase cellular turnover, since each new cell begets a new extracellular matrix, complete with its own HA. "Use AHA, BHA, and PHA exfoliation to stimulate your body to make more naturally, which can be done indefinitely," the biologist recommends. (Daily gua sha facial massage stimulates cellular turnover, too, without all the exfoliation.) You can also get hyaluronic acid via food, like sweet potatoes and bone broth.
Finally, help the hyaluronic acid you already have by giving it more moisture to hoard. Chug a glass of water (or eight). Snack on water-rich veggies like celery and cucumber. Your naturally occurring HA — the real "miracle ingredient," heavy with hydration and snuggled deep within your dermis — will thank you.
(SD-Agencies)