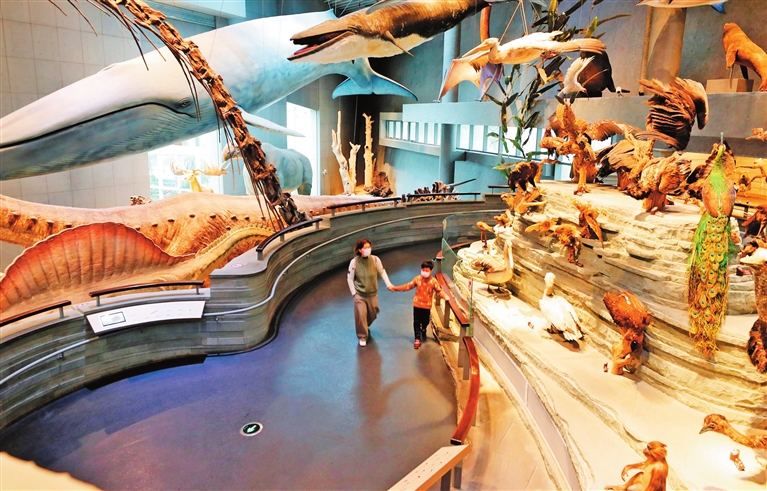 THE COVID-19 outbreak forced thousands of museums to close their doors. However, it has also inspired many museums to ramp up the digitalization of their collections and host lectures in cyberspace on livestreaming platforms and social networking accounts.
Nevertheless, as the battle against the epidemic — domestically, at least — appears to be in its twilight hour, museums nationwide are gradually unlocking their closed doors to welcome physical visitors back inside.
The reopening of museums is being undertaken with caution, though.
On Feb. 27, the National Cultural Heritage Administration released a guidance allowing Chinese museums to receive visitors again in "good order" and in accordance with each city's viral outbreak conditions.
In line with the national administration's demands, compulsory body temperature measurements upon entry, online ID reservations, audio guidance and daily entry limits, among other policies, have been implemented to ensure the safety of visitors and staff.
According to the latest statistics from the administration, over 180 museums in 19 provinces, municipalities, and autonomous regions, had reopened as of last week. Another 64 museums have either opened or are scheduled to open this week.
Different places have also drafted their own guidance for the step-by-step resumption of operation at these institutions. As the guidance of the National Cultural Heritage Administration points out, its reopening policy is not "ubiquitous," but to "make tailored plans to specific museums."
In Shenzhen, as the city lowers its safety risk level to "low" this week, cultural facilities like public libraries, Shenzhen Art Museum, Guan Shanyue Art Museum, Shenzhen Museum, the Shenzhen Museum of Contemporary Art and Urban Planning, and Dapeng Ancient City Museum have announced their return to public life. However, they all showed great caution upon receiving visitors. Guan Shanyue Art Museum put a cap on the number of visitors, allowing only 80 visitors per day, while Shenzhen Museum set a strict limit on the number of visitors to each hall, ranging from eight to 20 depending on exhibit size. All of these museums receive only visitors booked in advance.
In Shanghai, the list includes major museums and memorials such as Shanghai Museum, the Memorial for the Site of the First National Congress of the Communist Party of China, and Shanghai Songhu Memorial Hall for the War of Resistance Against Japanese Aggression.
Shanghai Museum began receiving visitors Friday. Up to 2,000 visitors are allowed per day. Visitors wear masks and keep a distance of at least 1.5 meters from each other after entering the venue. Those whose body temperature is above 37.3 degrees Celsius will not be allowed in.
A daily cap of 1,000 people has been set at the Memorial for the Site of the First National Congress of the CPC. Only 50 are permitted into the memorial at the same time.
All people entering these museums in Shanghai need to register on Sui-shenma, a real-name digital platform that uses QR codes to record personal health condition information for the museum staff to scan during check-in.
In Nanjing, capital of Jiangsu Province, all city-level museums have resumed operation, setting a daily cap of visitors at "50 percent of their maximum capacity." The provincial-level Nanjing Museum, also one of the largest museums in the country, plans to allow 2,500 people to visit in the morning and in the afternoon each. Visitors are suggested to stay in the museum for "no more than two hours."
Group visits to the museums are still banned in both cities, as are guided tours by museum staff. However, visitors can enjoy a digital tour by scanning QR codes to access exhibit information.
No Beijing-based museum has yet announced plans to open, including the Palace Museum, which attracted 19 million visits in 2019, the most among Chinese museums.
Nevertheless, what concerns museum operators is the safety of not only humans but also cultural relics.
For example, in Shanxi Province, specific rules are in place to limit warehouses custodians' contact with artifacts. A group of experts has been assembled in the province to evaluate the possible impact of disinfectants on paper-based relics like paintings and calligraphy and may seek to remove them from exhibition halls.
(China Daily)