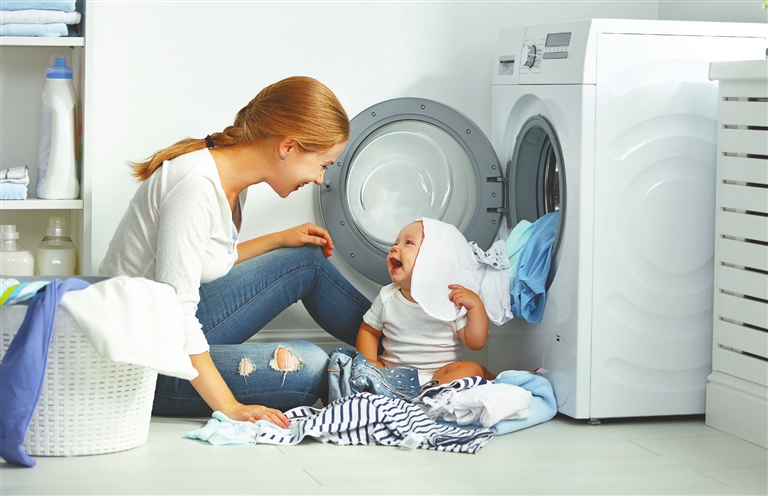 LAUNDRY is, by nature, a chore. The sort of task you push further and further down the to-do list until it's been three weeks and you cannot stand wearing those out-of-fashion jeans any longer. But clothes are not all that need washing. There are sheets and towels and stuffed animals too.
Depending on the material they're made of and how often you use them, these objects may require more or less frequent cleaning. Here's a breakdown of how often to wash everything in your life from gym joggers to that pesky carpet. But remember, check all product labels for brand-specific recommendations before starting your spring cleaning spree.
Denim
What better source on denim care is there than Levi's, the classic American jean company? While recommendations for jean washing typically range from after every three to five wears, Levi's recommends holding out on a wash until after the 10th. Remember to wash jeans inside out. Then, when they're out of the machine, hang or line-dry your jeans to preserve fit and prevent fading.
Slacks and skirts
Dissecting a dress code can be tough enough, so don't stress about cleaning your dress slacks. Dress pants or business slacks can last two to three wears without a wash. Like slacks, skirts can go a few wears without a wash too.
Dress shirts and blouses
Do not attempt to wear the same button-down dress shirt a whole workweek. Dress shirts and blouses can go multiple wears without a wash, and even more if you wear an undershirt. However, know that odors carry. Practice proper laundry habits and hygiene to avoid making an unfortunate office etiquette mistake.
Swimsuits and gym clothes
Whether you're heading home from the beach or the pool, swimsuits must be washed after each wear. Check swimsuit labels and washing machine guides — swimsuits may require a quick post-swim rinse in cold water on a fast spin speed. Whether you work out at home, in a hotel room or at the gym, change out of your workout wear immediately after exercise, allow it time to dry and toss it in the wash after a single wear.
T-shirts and tank tops
Likely worn in warm weather and made of absorbent fabric like cotton, T-shirts and tanks must be washed after every use. To stop tees from shrinking, check the fabric type and wash accordingly. Cottons may do best on a gentle cycle, while silks and wools do better with hand-washing. When in doubt, opt for a cold-water wash, slow spin and low-heat dry.
Undergarments
Underwear should be swapped daily and washed after each use, but unfortunately, many people don't follow this hygiene rule. Bras can go two to three uses without a wash. However, in between washes and wears, be sure to give your bra rest days for the elastic to regain shape. Like underwear, socks must be washed after each wear.
Sheets
Bad things happen when you don't get enough sleep and good things happen when you do. Whether you're tossing and turning or sleeping like a log, your body produces sweat in your sleep. This sweat, along with more harmful bacteria, may linger on unsuspecting sheets. Wash bedsheets once every other week. However, if you struggle with excessive night sweats, wash weekly.
Blankets and pillows
Like bedspreads, comforters and duvets, any additional blankets or throws should be washed monthly. Washing machine settings will vary depending on fabric. Finding the right pillow for you can better prep your bedroom for sleep. To keep that prized pillow fresh and clean, wash and dry on low heat twice a year. Don't forget the valiant pillowcases that shelter your pillows from all the ick produced in your sleep. Toss yours in the washing machine weekly for laundering.
Bath towels
Hang bath towels between uses, allowing an ample amount of time to dry. After three normal uses, wash. Kill residual bacteria by washing towels in hot water and drying on high heat. Like other common household items you need to replace, swap out old bath towels every one to two years.
Stuffed animals
A beloved stuffed animal can be a valued and loved friend to your child, and by extension a valued friend to you. To properly keep them clean, spot treat any pesky stains. Check for any electronic parts before machine- or hand-washing on a weekly basis. Wash on a gentle cycle in cold water and hang to dry.
Cars
Make a stop at the drive-thru car wash once every two weeks. If hand-washing is more your speed, keep your cleaning old-school. Grab the garden hose, sponge and a bucket of sudsy water and wash your car yourself.
(SD-Agencies)