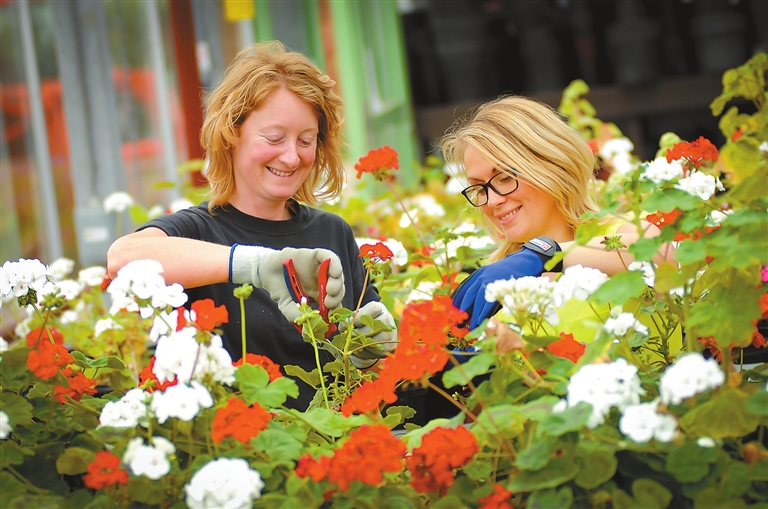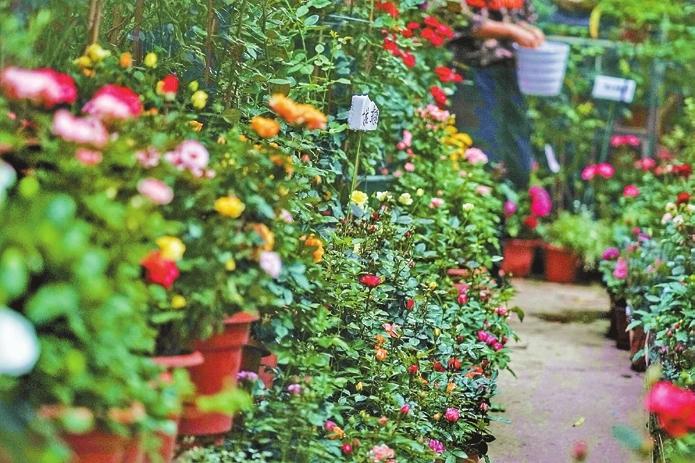 Wang Haolan
Holly_cn@163.com
I VISITED an arcade selling ornamental plants, pets and gardening tools in Bagualing Subdistrict, Futian District recently. Most of the stalls there were relocated from the original site of Futian Flower World, which was closed down for renovations Aug. 3, 2017.
The arcade, itself renovated from a wholesale market of books and stationery that is well-known to Shenzheners in their 20s, is a must-visit for potted flowers and succulent plants lovers, as they make up the vast majority of displays.
However, at its predecessor on Hongli Road, which was previously dubbed the largest cut flower market in Shenzhen, citizens carrying loads of fresh roses, lilies, carnations and tulips were omnipresent especially on weekends and holidays, though only a few shoppers would bother to visit the gardening stores hiding deep inside, behind the cut flower shops.
Though pleasing to the eyes, as being pampered with delicate glass bottles, fresh water and Chrysal Clear flower food, the cut flowers are fine to behold yet ephemeral, and thus cannot satisfy a mind in pursuit of sustainable beauty.
Therefore, more and more roses and lilies are blooming from the soil they are familiar with in pots, on balconies, and in rooftop gardens. What is more, city gardeners are also turning to growing vegetables and fruits alongside the flowers, which makes life more idyllic.
People take up horticulture for a constant supply of ornamental plants, for an occasional bonus bump of food, and if possible, as a mild treatment to help their mental health.
According the American Horticultural Therapy Association, horticultural therapy can help to improve participants' behaviors in social settings including the workplace, to facilitate the recovery of mental illness, and enhance a person's quality of life.
When one works to gain the knowledge of gardening books to keep a garden flourishing, blooming and yielding for years on end, it seems that their minds will be less occupied with asking "why is life so hard?"
Many gardeners, whether they are greenhands or have green thumbs, see British TV presenter Monty Don and the "Gardeners' World" program on BBC Two as their stepping stone into horticulture. Don broadcasted every episode of the program from his private garden named Longmeadow in Herefordshire starting in 2011. The horticulturist has been suffering from depression and Season Affective Disorder for decades and once nearly committed suicide. He stated in a column on the tie-in magazine of "Gardeners' World" that gardening is "extremely effective in alleviating and preventing mental illness."
Don is self-isolating at home due to the recent COVID-19 pandemic but continues to tweet updates of a pot of red tulips in his Longmeadow garden. Many in China had also been gardening at home to keep themselves productive during the lockdown.
The program "Best Picks for Consumers" on CCTV Two introduced several rooftop and balcony gardens located in residential communities in Beijing in a televised episode on Feb. 12. Thanks to that, a retiree surnamed Xu, who is living in Taipingqiao Subdistrict, Fengtai District, managed to apply a thorough makeover of her balcony garden, using flower pots and gardening tools she bartered with neighbors, and was able to keep herself busy during her home quarantine.
On the greenway of Sungang Road, which is about a kilometer away from the arcade, shrubs of society garlic and asparagus are arranged in delicate landscape, blooming in the late spring breeze. Many passers-by may slow down their pace to appreciate and take photos, releasing their eyes and mind from overwhelming screen hours and daily pressures.