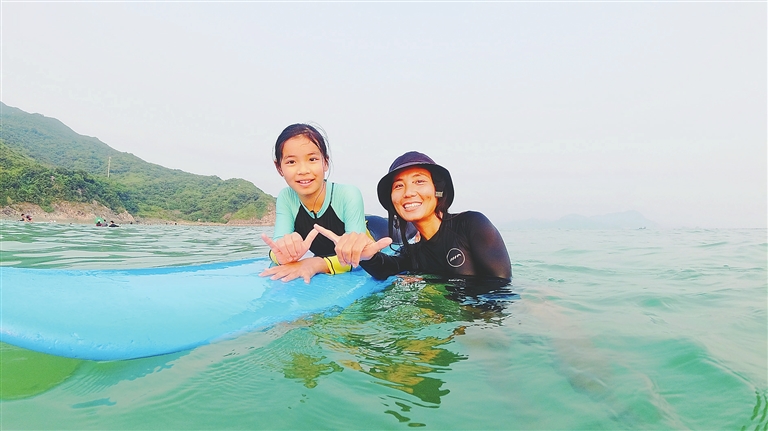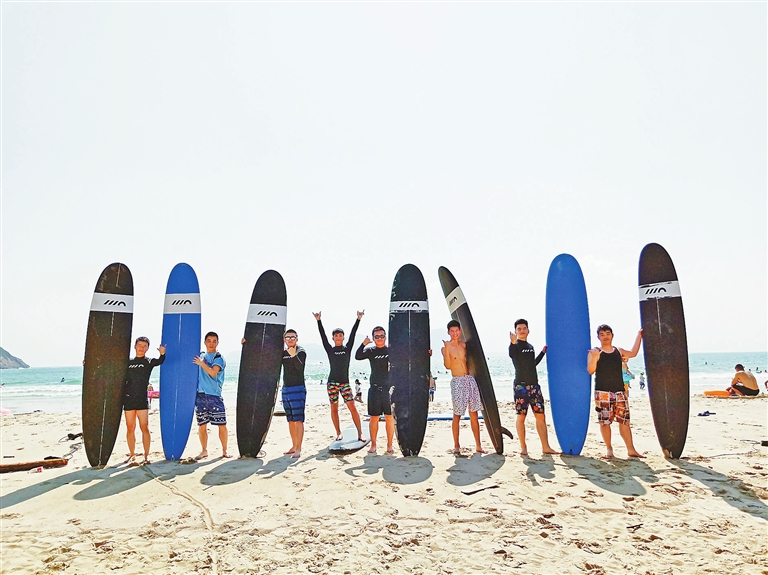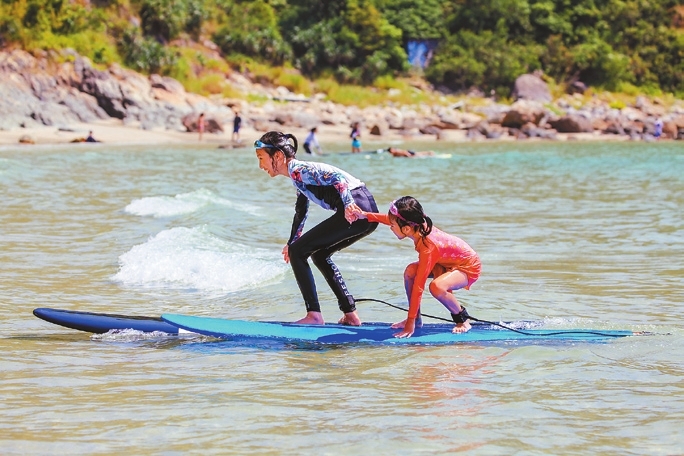 Debra Li
debra_lidan@163.com
BLESSED with clean air, blue sky, a clear sea and soft sandy beaches, Dameisha and Xiaomeisha in Yantian District, only about an hour's drive from downtown Shenzhen, will definitely see a big inflow of visitors this coming May Day holiday, as people are eager to embrace nature after the COVID-19 forced lockdown.
Those who hope to keep their social distance from the crowds and have more fun will need to explore further along the east coast of town.
An overnight stay at the picturesque Xichong Beach on Dapeng Peninsula, with a tutor to show you the ropes of surfing, is the plan recommended by Klook, a Hong Kong-based OTA (Online Travel Agent) startup.
The Offshore surfing club, started by three surfing professionals, runs a water sports-themed inn and surf shop where people can lodge, enjoy meals, learn to surf and make friends.
"You don't even need to be able to swim to surf," said Yang Xue, one of the club's founders. According to tourism blogger yaoshunSven, who has more than 700,000 followers on Sina Weibo, Xichong is one of the few ideal surfing spots for beginners in China. It's about two hours' drive from the CBD in Futian District.
With a tutor to give one-on-one instructions, first on the beach and then in the water, a beginner will be able to surf (stand on the surfboard) within an hour after taking up the sport.
More importantly, they can have fun embracing the waves and sea wind, and meet like-minded outdoorsy people.
Klook recently launched a campaign to help people rediscover the cities they love and call their home. To this end, the OTA introduces more than 100 new experiences that people will soon be able to book on their app, recommended by over 200 tourism KOLs and lifestyle bloggers.
Six "city explorers" shortlisted from 3,000 candidates are given opportunities to try out novel and fun experiences in six cities, namely Beijing, Shanghai, Hangzhou, Chengdu, Guangzhou and Shenzhen.
Apart from surfing, fun activities recommended for Shenzhen also include a pub crawling night to try out the best beers in town and other fun sports like cliff climbing.
For those in Beijing, the app offers traditional hutong (small alley) tours and a 15-minute helicopter tours to enjoy the breathtaking view of the Mutianyu section of the Great Wall from the sky above.
Founded in 2014 by three travel-loving young men, Klook is a booking platform that offers a curated selection of activities and attractions in about 400 destinations, most of them in Asia. Besides the app, people can book the services at its website and WeChat mini program.