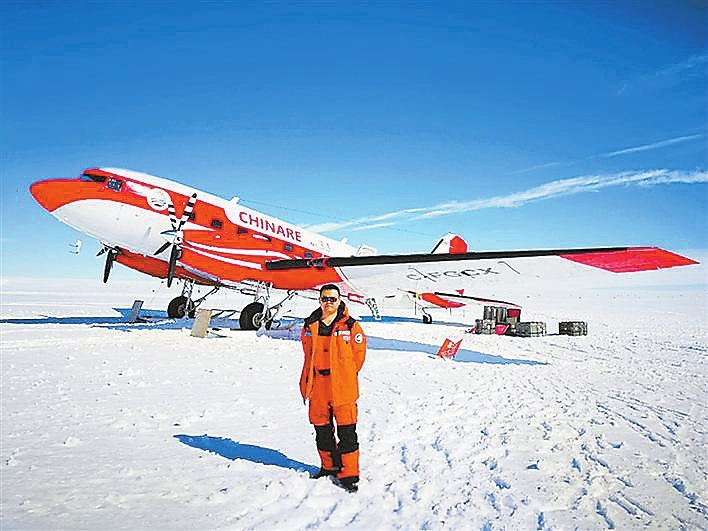 SOME might think Antarctica is a barren waste-land with no sign of life. But for Fu Lei, who recently finished his Antarctic expedition, it is a mysterious treasure trove and a battleground for scientific research, Shenzhen Economic Daily reported yesterday.
Fu, a research assistant professor at the Department of Earth and Space Sciences, Southern University of Science and Technology (SUSTech), was first invited to join China's 36th Antarctic research expedition in October 2019.
The expedition team, aboard China's polar icebreakers Xuelong and Xuelong 2, returned to China on April 23.
"My research focuses on airborne ice radar. The Polar Research Institute of China has collected a large amount of ice radar data in Antarctica in recent years. I'm honored to have participated in some data processing work, which had laid the foundation for this expedition," Fu told the Daily.
In November last year, Fu and his teammates took a flight conducted by Australian Antarctic Division from Hobart to Casey Station, and then took a 601 fixed-wing aircraft to China's Zhongshan Station in Antarctica.
From Dec. 4 to 6, 2019, Fu and his teammates used 100 short-period seismometers to complete the survey along an inland route running about 20 kilometers in Antarctica. After 45 days, they recovered the instruments and processed the data.
"We eventually obtained original seismic background noise data, which provides firsthand information for an in-depth geological survey and resource exploration in the area," Fu said.
Fu said the expedition had been fruitful. During the journey, he was most impressed by an unofficial academic exchange organized by the research team on their way back to China.
The meeting lasted four days, covering 12 reports on remote sensing in sea ice, UAV remote sensing, earthquake observation and underwater gravity measurements.
The expedition was also very special in that it was the first Antarctica expedition undertaken by two Chinese icebreakers at the same time, as well as the first one for Xuelong 2, according to Fu. Scientists have completed tasks in scientific research on land, the survey of the Ross Sea and other ocean areas.  (Zhang Yu)