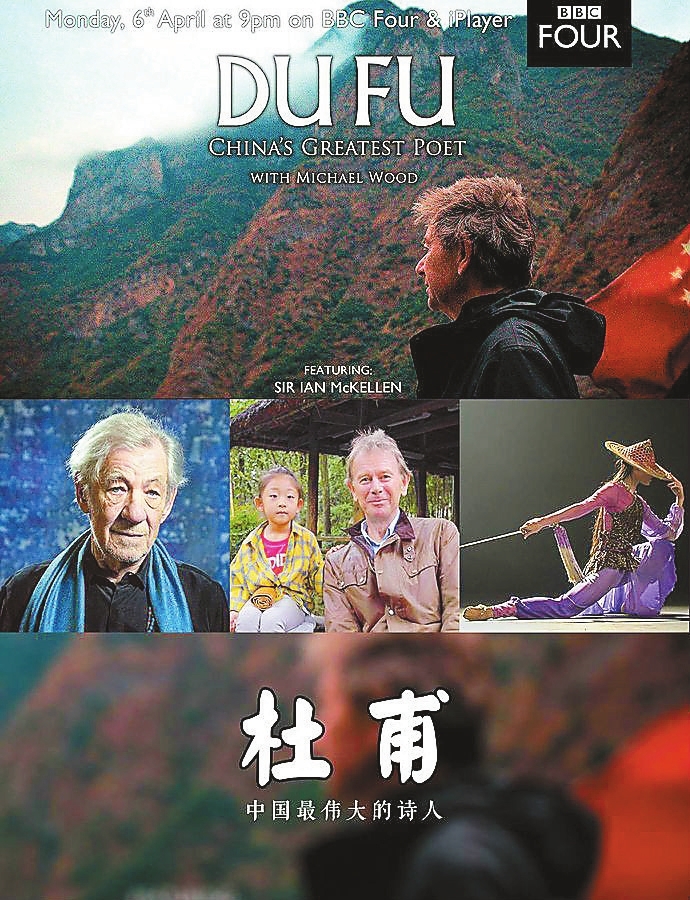 BRITISH historian and TV presenter Michael Wood has said he is delighted to see that his newly released documentary about Du Fu, a prolific Chinese poet in the Tang Dynasty (618-907), has helped boost cultural understanding between different cultures especially during the novel coronavirus lockdown when mutual appreciation is particularly important.
Cultural connection vital
The one-hour documentary "Du Fu: China's Greatest Poet," was recently aired on the BBC. From the Yellow River to the Yangtze Gorges, Wood traveled in the footsteps of Du Fu, conjuring up the extraordinary life, times and words of one of China's most-loved poets who lived some 1,300 years ago.
In a recent exclusive interview with Xinhua, Wood said this film, in which Du Fu was first introduced to the Western world in documentary form, has drawn lots of attention in Britain.
"A lot of the audience were saying this was a good time to do it because it helps understanding and it's about human feelings and ideas," he said. "We also got a lot of people in Britain saying it had opened their eyes to an aspect of Chinese culture that they were unaware of. They don't know China has the oldest living continuous tradition of poetry in the world."
He added that some people have shown keen interest in China and Chinese poetry after watching the documentary.
"We've got quite a few letters from people saying they've been inspired to order translations of Du Fu's poems. You know, we're in the lockdown here and they want to get deeper and look further," he said.
This kind of cultural connection is vital, especially at a time when COVID-19 outbreak poses global challenges and is damaging cultural relations among different countries, noted Wood, who is also professor of Public History at the University of Manchester and president of the Society for Anglo-Chinese Understanding (SACU).
China-bashing concern
The professor also expressed his grave concern over the damage that unfounded China-bashing could do to cultural exchanges.
"It is a bit worrying, especially when you hear the noises ... and there is prejudice that Chinese people do not in any way deserve," he told Xinhua.
The professor warned the COVID-19-related damage to cultural links exists in all sorts of ways. He took his hometown Manchester as an example, to stress the importance of keeping connections with China and fighting against the prejudices floating around at the moment.
"Manchester has always had a big connection with China, and the University of Manchester has the biggest Chinese student population, not only in the U.K., but in all of Europe. So Chinese culture, Chinese everything, is a big thing in Manchester. But we are very worried now that the COVID-19 outbreak will affect those kind of cultural exchanges as well," he said.
He expressed hope that things could take a turn for the better and "we hope that Chinese students will still want to come to study in Manchester, in Britain. Because it is through these links that you make a better world for everybody."
'Labor of love'
It was also in Manchester where Wood started his love with Du Fu's poem, when he was a teenage school boy.
He recalled that he found in a bookshop a nice series of translations of world literature and one of these was the poetry of the late Tang Dynasty.
"The moment I read the words of the book, I was really hooked. This was a world I didn't know anything about, a world I never imagined existed. It was of such fabulous richness, and since then these poems have stayed with me."
For this reason, after having produced more than 120 history documentaries, Wood called the Du Fu documentary his "labor of love."
In the film, Wood not only uses "the greatest" to describe Du Fu, but also puts him in the same literary league as Dante and Shakespeare.
But the professor pointed out that the impact of Du Fu goes far beyond that as a "poet."
"To call him a poet is to underplay his importance in Chinese literature, because it limits his standing simply to that of a poet. There is no comparable figure in Western culture, no someone even by chance, who came to embody not only the feelings but the moral sensibility of a whole civilization," the presenter said in the film.
He told Xinhua that during the filming in China last September he was impressed by ordinary Chinese people's enthusiasm for the poet and his poems.
"You see that the ancient culture has not been lost at all. The riches of the culture survived," he said.
To better present the poetry to Western audience, he invited British actor Ian McKellen, who played Gandalf in "Lord of the Rings," to read in English 15 poems and articles translated from Du Fu.
Wood remembered that he sent some poems of Du Fu to McKellen and he replied "almost immediately" by email saying "these are just wonderful and I really want to do it."
As an accomplished television historian, Wood already produced other China-related documentaries, such as "The Story of China," released in 2016, and in 2018 "The Story of China's Reform and Opening Up."
And he won't stop the search for Chinese culture and history. He said he is very interested in the first British diplomatic mission to China in 1793 by George Macartney.
"I'm quite interested in doing a film which looks at that first moment of Anglo-Chinese diplomacy and seeing what we could draw from that. But it's just a little idea so far. We'll see."
(Xinhua)