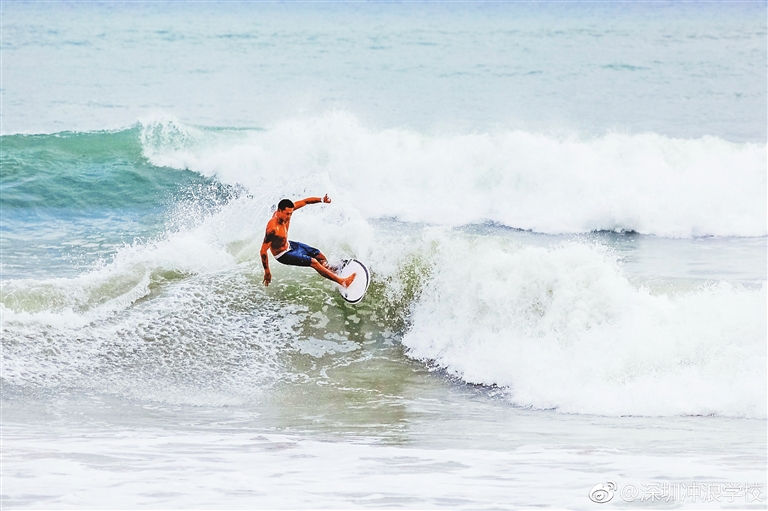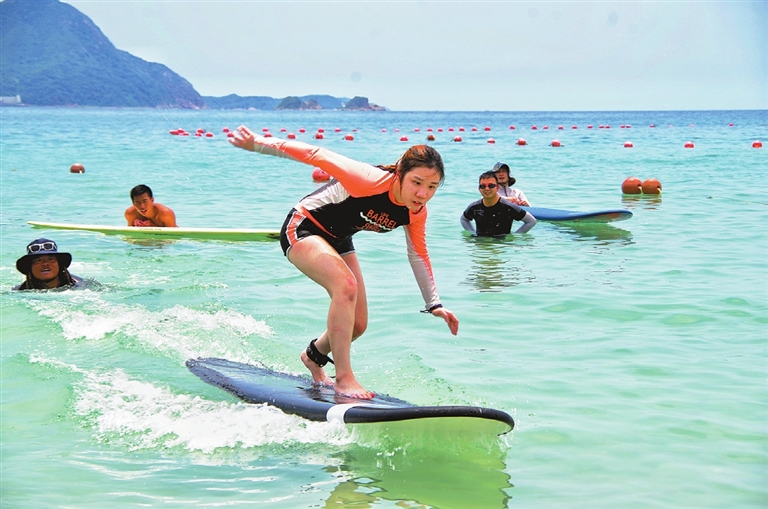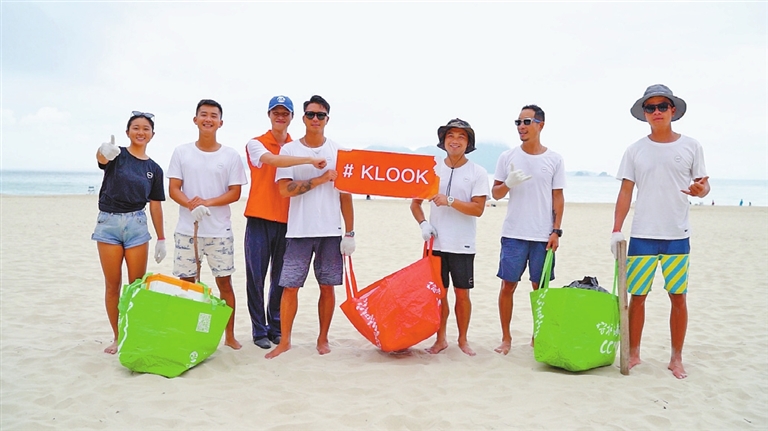 Debra Li
debra_lidan@163.com
IT'S never too late — or too soon — to start surfing. A healthy and fun way to stay active while enjoying the ocean, sunlight and fresh air, surfing is gaining traction among young people in Shenzhen. That said, it's not as easy as grabbing a board, hopping into the water and ripping it up like Kelly Slater.
Like any sport, it takes time, patience and basic physical coordination to learn how to do it.
If you're newly smitten with the idea of surfing, the good news is that here in Shenzhen, you can easily access Dongchong and Xichong, two ideal surfing beaches in China that can find rivals only in Sanya, Hainan Province. Both venues in Dapeng Peninsula in the east of Shenzhen, Xichong was left in ruins after super Typhoon Mangkhut in 2018 but is expected to reopen this July.
When I arrived at Dongchong Beach on Saturday morning, several umbrellas were already put up, under which sat surfing instructors from various clubs.
Before my eyes extended a straight, sandy shoreline and clear ocean water, which makes an ideal beginner's surf spot — the oceanic equivalent of the kiddie pool.
At this time of the year, the water temperature is around 26 degrees Celsius. So your only needs might be a pair of board shorts and a rash guard — a shirt that prevents irritation from the sun and surfboard wax. Both items are made with a stretchy polyester fabric, such as spandex, for a comfortable fit. Although most rash guards carry a UPF (Ultraviolet Protection Factor) rating, you are still advised to apply sunscreen.
My instructor from the Offshore Surfing Club also applied a natural zinc surf mud on his forehead, nose and cheekbones for better protection, since he spent the entire day in the sun.
It's always wise to ask around and find the right professional instructor to learn from. A professional instructor is not only more experienced, but he knows how to teach as well as what to teach. You learn the correct techniques safely and efficiently.
Currently there are around 10 surfing clubs in Shenzhen, half of which are operating full-time. Of the roughly 60 surfing instructors, a quarter have acquired the International Surfing Association (ISA) certificate.
A beginner's course, lasting two hours, normally costs 500 yuan (US$70), including the rent for the board and leash (an ankle strap that secures you to your board). Most clubs also allow you to use the board for a whole day after you finish the session. Group courses are cheaper depending on the number of students, and there are options of 4-session and 8-session packages.
I was lucky to have Chen Guoquan, an experienced surfing instructor and co-founder of Offshore, to show me the first steps.
The first 15 minutes' instruction is often done on the beach, where you learn the construct of the board, practice the right posture (always stick to the center line of the board, both hands propping up your upper half), and learn the moves of how to change your position from lying on your stomach to standing on the board. As it's inevitable to occasionally fall off the board, try to flop onto your side or back, with both hands extending backwards and landing on the back of your head to protect your face and head.
Then it's time to head to sea. Notice how the board's nose rests on the water before you get on. It should look the same when you lie on it, but slightly lower. If the nose rises higher or dips below the surface, you've altered the board's center of gravity. You need to slide forward or backwardto restore the balance.
Paddling is very important, Chen said. Strive to take long, steady strokes with palms cupped while keeping the rest of your body immobilized. When you're paddling for a wave and feel the energy of it as it starts to lift you up, give one more strong paddle stroke. The extra velocity will help you ride and drop more easily with the wave.
Surfing is a whole-body sport, but certain muscle groups get worked more than others. It takes strong arms for paddling, and core strength for popping up, the move that takes you from lying on your board to standing. Sit-ups, push-ups and squat thrusts all help tone these areas. Arm exercises using hand weights can strengthen the rotator cuff muscles in the shoulder, which are especially stressed by paddling.
You need a fine sense of balance as well. To improve balance, try walking the plank. Set a two-by-four piece of lumber on bricks 15 centimeters off the ground and walk it. For that purpose, the Offshore club also offers trainees a small skateboard to practice on the floor.
After three or four times falling off the board, I was finally able to stand on it.
While standing on the board, bend your knees but keep your back upright; your chest should be horizontal with the board with your head turned and your eyes looking front.
Like any other sport, surfers are required to follow certain etiquette. For example, wait your turn in the lineup. Don't drop in, or catch a wave, when another surfer is already riding it. Sometimes beginners drop in, not realizing the wave's already in use; pay attention to what's going on around you.
A good moderately priced surfboard costs around 3,000-4,000 yuan, but Chen doesn't recommend a beginner to spend that money immediately. "You'd better rent one and practice with an instructor first. When you've decided to follow this passion and actually mastered some skills, you will come to the point to buy a board."
A first surfboard should be like a first car: a basic model, easy to handle, and built to last until you're ready for something with more horsepower.
With surfing included for the first time as a competitive sport in the Olympics at the Tokyo 2020 game, Chen expects more people to embrace the sport.
"Surfing is thrilling, but not as dangerous as it appears to be," Chen said. "Falling off the board doesn't hurt, as long as you do it in the right posture."
Those interested can follow WeChat accounts "离岸风冲
浪," "balilife" and "Line-upSurfStudio" for more information or search for learning materials on apps like Eyepitizer and Bilibili.
Klook, an online tour agent focusing on providing individualized experiences, also offers packages for instructed surfing sessions, with options of an overnight stay by the beach.